Canon DC19 DVD Camcorder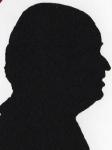 A camcorder that records direct to 8cm (mini) DVD's and can also record still images to an SD card. Could this be the best of both worlds?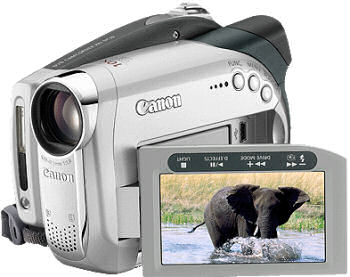 It is small and weights only around 450grams. The dimensions are a maximum of 12x10x4.5cm. The optical zoom is 10x (a lot less than some) and a standard DVD-R disc can record around 30minutes of action. The battery is said to last for around 80minutes between charges.
If I said a 2.2MP camera most would say not enough. However this is a camcorder and indeed an HD one with 16:9 display. Of course all - as far as I know - camcorders are designed for right hand use. The strap that your hand goes though is on the right side and the screen is on the left. I am predominately left handed but cameras and camcorders I can use right handed.
The 16:9 screen is 6x3.3cm and can be rotated through 270degrees. Should bright light - or desire - decree you can frame and shoot through the viewfinder. However in certain situations such as at the back of a crowd using the screen tilted can get images where you cannot get without a ladder.
All the buttons are clearly labelled and if you are unsure there is a good 114 page instruction manual. The left side has three buttons above the TFT display that can be used in many positions when opened to 90degrees it shows a mini USB socket and printer button. The front has the 4.05 to 45mm lens as well as a good shooting light for those occasions when residual light is inadequate. The base has tripod screw point and button to allow removal of mini DVD it also has on the front edge the charge point for the battery all but hidden behind the front of the hand strap.
The top has thumb toggle for wide angle/telephoto zoom as well as still image shot capture button, mode switch and the all important start/stop shooting button. Beside this but technically on the rear of the camera is the focus button and those used to autofocus cameras will need a while to get used to this. Just below this are the on/off toggle and switch for camera/camcorder use.
While writing this article I checked a few things that involved viewing my PC screen through the TFT display and if I say I could clearly read the whole screen of text that was 21 lines on the display I think that proves that the quality and clarity is excellent.
Now as Canon do not supply any media I had only standard DVD-R discs, the instructions say it will also support DVD-RW and best of all for those who need longer times dual layer discs that I am told support up to 110 minutes of video.
Taking images at close to full zoom needs a steady hand or a tripod, however this unit has EIS (Electronic Image Stabilizer) and this certainly assists in getting a stable image. Another nice feature is to capture still images onto SD card while shooting video onto DVD. Early camcorders (tapes) stored both on the same media so the results always needed heavy editing. I mentioned the video light but for still images there is also a flash meaning that moving images taken to SD can still be taken in less than perfect light.
In my introduction I posed the question is this the 'best of both worlds' maybe not but it is probably as close to the best at the price available right now. Bear in mind that I am very bias as I am a keen still photographer and while I can see the value of a camcorder my first love is still photography and for me to say the above must mean it's pretty good. My choice would be to have both a camera and a camcorder but that is not always possible either for cost or carrying reasons.
Doing my Internet searches found the Canon DC19 at a best price of £242.95 from the first link below.
Canon http://www.amazon.co.uk/gp/product/B000IKU0EI/202-9276050-9787028
http://www.canon.co.uk/For_Home/Product_Finder/Camcorders/DVD_Digital/dc19/index.asp