Canon MG7550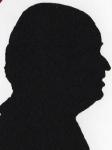 This is an Inkjet All In One offering but not the basic two cartridge offering as this has no less than x inks. So this has to be something to consider if the printing output is more important than basic mono or quick print output to you.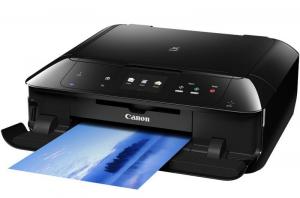 click image to enlarge
The Canon Pixma MG7550 measures 42x36x15cm. Add 14cm to the middle figure the depth when the automatically opening paper output tray is lowered.
This is a six ink unit the quality is excellent and just for good measure a single mono page will print in only ten seconds from switch on which is exceptionally good for those wanting a single page.
Installation on a windows machine was not quick at 19 minutes and it took 1.622GB of space but that includes the very full featured Image Garden software which is exactly what you need when you have a unit with six different inks.
The sloping front edge has an on/off button a touch screen (6.5x5.5cm) and an NFC touch point.
In normal use once you switch on you are at the middle of three swipe screens, it simply says Copy, Scan and Cloud. Flip right for ECO Settings, Quiet Setting and Setup and Flip left for W-Lan, Advanced Print and Photo Print. Every control you will want is under one of these touch buttons and for those 'fancy' touches there is Canon's Image Garden software on your PC.
A single copied page from the recessed flatbed using the default of 100% copy is printed out in 12 seconds.
As with most recent units I have reviewed I have had to initiate scanning from the PC end from opening the software to having a page OCR is around 30 seconds and around 25 seconds for a JPG or PDF image.
For both copying and scanning there are numerous choices such as colour or monochrome, reduction or enlargement as well as a choice of output formats.
There is a lower paper tray which you would normally place A4 in above this and just below the automatically opening paper output tray is a photo printing tray that can take 6x4 or 7x5 and again when you open and close it it asks what media you have inserted.
Printing speeds used to be a point where you scratched your head, yes all timings assume draft mode (the fastest) but with this unit the output is still black and solid, no grey images from Canon.
The only figure I will give here is for an A4 borderless image printed in best mode which takes 170seconds it is photograph quality and emerges dry.
The rest of the speed claims can be read on the last link below.
While you would never buy this unit for occasional single page mono printing as stated above 10seconds for a printed page from switch on is excellent, while 170seconds for an A4 borderless print is not radically fast the quality is superb.
There are many cheaper units on the market for those who want to do a little printing, some scanning and copying and when you factor in ink costs having six can make this expensive but if you want quality.
The Canon MG7550 is available from the first link below for £126.98 including delivery.
http://www.amazon.co.uk/gp/product/B00MXZZOXI?ie=UTF8&tag=gadge0a-21&linkCode=as2&camp=1634