Samsung Colour Laser MFU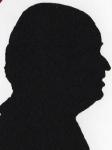 Colour lasers are no longer huge, they are no longer that expensive and they print colour at 25% of the speed that mono pages do. In fact the 'other half' could even be happy as it can connect wirelessly so does not need to be in sight.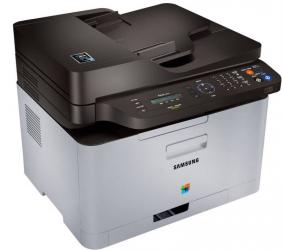 click image to enlarge
It is 40x42x31cm no further space is required as the output tray is within those figures. The only thing that protrudes from the bulk of the unit is the input tray at the base by 8cm and I have included that in the overall dimensions. It weights 14kilos.
It is ready to work 20seconds after switch on. A 3second push on the on/off button is required to turn it off. All the connections are in a vertical line back right, that is AC power, Ethernet, USB and phone line. It can be connected via Wi-FI but is one of these units that requires a USB cable to do the setup.
The front edge in front of the flatbed and page feed slopes down slightly and contains all the controls. There is a 6x1cm display which in less than perfect light can be hard to read as it is black on grey, it could do with a backlight.
There are a total of 26 buttons as well as the ubiquitous five position joystick. However for printing it requires only for the unit to be switched on as all control is at the PC. Scanning can be done from the machine or from the PC while copying is only from the machine. Fax can be setup either way for outgoing and incoming is of course automatic.
I got 18PPM when printing in monochrome and 4PPM printing in colour. There are of course four toner cartridges all easy to change and there is bar showing the percentage remaining of the four individual cartridges. It comes with half size 'starter' cartridges good for around 500 pages but standard cartridges are good for around 1000 pages. Paper is loaded into the input tray face up and delivered on the output shelf face down.
While you would never buy a laser for colour photographic printing the output on plain paper is remarkably good and an A4 image takes around 35seconds from pressing print on the PC until the image is delivered.
Copying an A4 colour image using the default settings takes around 30seconds and a mono copy of the image takes 12seconds.
I printer mostly on normal 80gram paper but it is stated to accept 60-220gram and I also printed on card which is around 250gram.
You can press the scan button and scan to PC or USB – there is a port under the overhang at the right of the front edge – or you can work from the PC.
This unit has another feature in that it supports NFC communication so almost all recent SmartPhones can just touch the unit to print, nothing to install.
Compared to older units it is very quiet when printing with a maximum of around 50dBA. It uses 290watts of power while printing and around 2watts in standby.
I liked this easy to use unit the output was good and the buttons on the unit easy to follow as to their task.
The Samsung SL-C460FW is available from the first link below for £303.60 with free delivery.
A set of four cartridges is available for £84.99 with free delivery.
http://www.amazon.co.uk/gp/product/B00DVHBG66?ie=UTF8&tag=gadge0a-21&linkCode=as2&camp=1634
http://www.amazon.co.uk/gp/product/B00F64XPD4?ie=UTF8&tag=gadge0a-21&linkCode=as2&camp=1634
http://www.samsung.com/uk/consumer/print-solutions/print-solutions/colour-multifunction-printer/SL-C460FW/SEE