A Handheld Scanner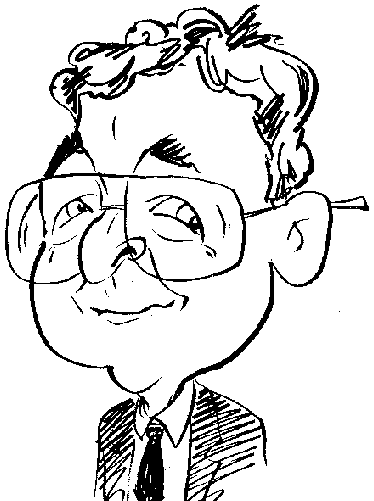 Review controls
Many years ago my first scanner was a handheld device, shaped a bit like a paintbrush, with a scanning width of about 4-inches. A more modern version increases the scanning width and adds Wi-Fi capability.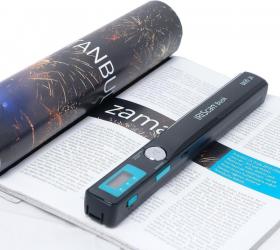 click image to enlarge
When checking on a new piece of hardware, one of the first things I do is to peruse the Quick Start Guide. Unfortunately this was not immediately possible with the IRIScan Book Executive 3 product. While there was documentation regarding other IRIS products, registration and a slip of paper that explained, in several languages, that the Quick Start Guide was on the supplied CD in PDF format. Obviously, with regards to printed documentation, IRIS feels that advertising and registration takes priority over printed Getting Started help.
The IRIScan Book Executive 3 product, with the tag line of "You slide, it scans", is a hand-held scanner with Wi-Fi capability. You need to drag the scanner over single pages of a document. The resulting scans will then be stored in memory until they can be transferred to a computer or mobile device. The scanner element, which comes with its own soft carry pouch, has dimensions of 258 x 39 x 25mm (L x W x D) which means the device is more suited to a bag rather than a pocket when in transit. Depending upon the use to which it is put, this scanner can be powered by four AAA batteries (supplied) or a micro-to-standard USB lead (also supplied). Also included in the box is a micro SD memory card with adapter for storing your scans,
Along with the PDF version of the Quick Start Guide mentioned earlier, this portable scanning solution comes with Readiris Pro 14 and IRIScan Direct. You can also download a free app from the relevant store for your smartphone or tablet. Generally the installation of the different software is quick and straightforward although Windows users are required to enter a 34-character product key within 10 days for continued use of Readiris Pro 14. Mac users get away with a 15-character key.
The top of the IRIScan Book unit, which is removable so that you can insert the four supplied batteries, features a large silver on/off/scan button and a small LCD window providing feedback as to the status and settings for the device. Buttons to cycle through colour/mono/JPG/PDF and 300/600/900 dpi settings are mounted on either side of the unit along with a slider switch for the Wi-Fi capability. A micro SD card slot sits on the front with a micro USB port on the rear. Rollers and the scanning window occupy the base of the unit.
Although this is a Wi-Fi device, it does not act in the manner which I expected when used in conjunction with a computer. Rather than join an established wireless network, the IRIScan device has its own network which the computer needs to join. As a result you will be temporally cut off from the Internet while this network is in operation.
Even with this enclosed wireless network set up, I quickly discovered that its functionality was extremely limited with regards to the connectivity between the scanner and the bundled software. The only way that I was able to get the scanner to communicate wirelessly with either a desktop or laptop computer was via the URL of 10.10.1.1 which allowed me to transfer scans stored on the scanner as files with alphanumeric designations.
Fortunately the supplied USB lead allowed me to connect the scanner to a Windows computer and obtain slightly better results. As this portable scanner does not support either TWAIN or WIA, it has to be used with the IRIS supplied software. With regards to these supplied applications, IRIScan Direct will only agree to load if the USB connection is in place. With this software acting as the conduit, and running in the background, you can scan direct into a variety of third-party applications. However this is not an instant live scan as the image does not appear on-screen until the scan has been completed.
Readiris Pro 14 offers additional functionality but contains what I feel is a bug. With the scanner attached via USB, this application believes you will first want to work with an existing document you have scanned previously. In fact this software is so convinced that this is the approach you should take that, even if you ignore this initial option, it will still insist on offering the opportunity to load a file when you click on the Scan button that is attached to a tool tip stating "Click Scan to scan a document from your scanner".
Once you have given in to the software's insistence you can analyse zones using the software's OCR functionality; make adjustments; delete or include pages; deskew, rotate and adjust pages; plus save the results. Content can be dispatched to various destinations include Cloud services such as Dropbox, Evernote and SkyDrive. Just do not try to scan direct into this application as its scan button does not scan.
IRIS has developed a free app entitled IRIScan Book. With this app you can synchronise your tablet or smartphone with the content stored on the scanner. You can select the files you want and these will be downloaded and appear as icons. Depending upon the format, PDF or JPG, these files can be displayed in an appropriate viewer. Options will be available to rotate, crop, open in another application and save content.
The quality of the scans was good although you do need a steady hand as you slide the scanner over each page of your document. While there is Wi-Fi capability it is not all encompassing as you might expect but you can get round this through the use of the supplied USB lead. The software, especially the Scan button that does not scan, provided with this product is not of the same high standard as the hardware.
I have seen this product advertised at £111. System requirements for Windows call for a Pentium processor, 256MB of RAM and 120MB of hard disk space. Mac users will require a PowerPC G3 or Intel based system with 220MB of hard disk space. There is support for Android 4.0.
http://www.irislink.com/c2-2546-189/IRIScan-Book-3---Mobile-Scanner---Scan-from-books-and-magazines.aspx