A Colour Laser Printer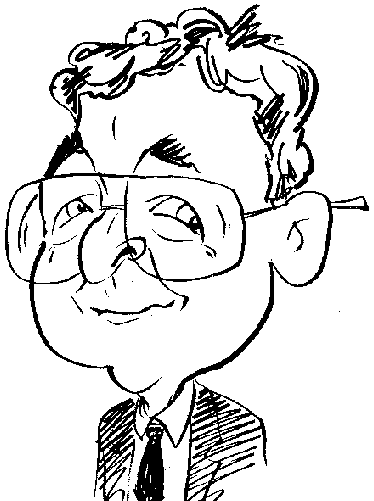 Review controls
Normally when I get to see a colour printer, it is an inkjet model but in this case the printer is a laser unit.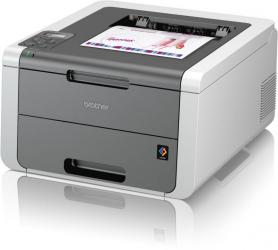 click image to enlarge
Decked out in a rather subdued combination of light and dark grey, the HL-3140CW is a Brother laser printer. Unlike my own Brother HL-2030, which has provided sterling service for several years, this new Brother unit features two major differences which are indicated by the "CW" part of the unit's model number. The HL-3140CW supports wireless connectivity and is a colour laser printer. This model has been designed for use in a small office although it could fulfil a useful function, at a pinch, in a home environment.
Despite its rather neutral colour scheme, the HL-3140CW is not a shrinking violet especially with regards to its size and overall weight. Larger than a similar specified mono laser, this box-shaped model has dimensions of 410 x 465 x 240 mm (W x D x H). There is an even greater difference with the weight of this unit which is a back-straining 17.0 kg as you remove it from its packaging and position it on a suitable surface. An illustration of the packaging does indicate that the handling of this unit is a two-person task.
This colour laser printer is a four drum and toner model covering black, cyan, magenta and yellow. While the product arrives with the four individual drum and toner units in place, there are not exactly ready for use. You need to raise the top of the printer to gain access to the innards of the device and then extract the four drum and toner units. Once extracted, you can then remove the protective covering placed around each drum and toner unit. After giving each one a shake to ensure there is an even distribution of the toner, you can then replace them in their clearly labelled appropriate slots and close the printer lid.
Due to the positioning of the sockets at the rear of the unit, specifically the one used for mains power, and for easy access when needing to remove possible paper jams, you do need to ensure that sufficient space is left at the back of the printer. As no paper jams occurred initially during my review testing of the printer, I first thought I would have little to report on this issue but that was before I attempted to use the manual slot to print an A4 image.
According to the list of available paper type options, one choice was Glossy Paper which I selected and was advised to use the Manual paper source setting. It took several attempts before I could persuade the printer to accept the sheet of paper rather than display an error message that there was a paper jam when there wasn't. When the paper was accepted, it partially chewed up the page leaving several pieces behind in the printer. In order to remove the various pieces I needed to remove the back cover before releasing a drop-down safety bar. Eventually I was able to print the image on a sheet of glossy paper but the result was marred by a number of heat bubbles. This problem only occurred when using Glossy paper.
Also at the rear of the printer is the USB port for those who opt to use this method of connectivity rather than the WPS supporting Wi-Fi option. Detailed instructions are provided in the Quick Start Guide for whichever type of connection you opt for when setting up this printer as part of your computer set-up.
The Brother HL-3140CW offers two paper input options. There is the main paper tray which is easily accessible as a slide out option from the front of the printer. This paper tray can hold up to 250 sheets. Disappointing this enclosed paper tray does not possess a window to indicate the level of available paper and give a visible warning when the supply is getting low. A second option for feeding individual sheets of varying sizes of paper is available and this is accessed by lowering a panel on the printer's front. In both cases printed documents are ejected at the top of the printer where a small flap helps raise the ejected pages for easy removal.
As well as the paper output area, the top of the printer also contains a small control panel that is based around a 5 x 1 cm LCD (Liquid Crystal Display). Arranged below this small screen are buttons for four-way navigation that also covers increase and decrease options, Cancel, Go and a Secure option that allows you to print password-protected data stored in memory. Just below this control panel are a couple of LEDs designated for data and error. These LEDs blink to indicate when relevant activity is detected.
The print driver supplied with this product offers you the choice of Standard or Fine print quality. Standard print quality is defined as being 600 x 600 dpi while Fine print quality is produced at 2400 dpi. In terms of speed there was no difference between the two print qualities. Using my standard 101-word document, whether in monochrome or colour with an additional image, 18 pages per minute were printed. However there was a definite darkening of text when Fine print quality was chosen.
Several other options are available from the Print driver settings box. You can select the paper size, media type and document type. Options are available to chosen the orientation and whether the document should be in set at colour, monochrome or auto. Both double-sided (Duplex) and booklet printing can be used but in both cases this is a manual operation. There is also an option to 25 document pages on a single sheet of paper but you will probably need a magnifying glass to read the results. You do need to be aware that any settings, apart from the number of documents in a print run, will be retained and used when next you carry out a print job.
Apart from the problems I encountered when attempting to print an image using glossy paper with the manual paper feed, the HL-3140CW produced good quality documents at a reasonable speed. It is not silent in operation but I would hardly classify it as noisy. When not in use, the printer places itself in sleep mode so as to cut back on power usage. Currently Brother is advertising this mode at a price of £174. Replacement drum/toner units are priced at £74.38 for black rated at 2500 pages and £71.99 for each of the three colours capable of printing 1400 pages.
http://www.brother.co.uk/g3v1/g3.cfm/s_page/215760/s_level/36190/s_product/HL3140CWZU1