Canon PIXMA MX525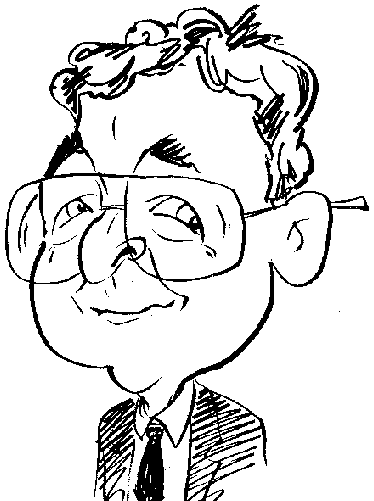 Having recently finished running the rule over the PIXMA MX395, it was almost a case of de je vu as I unpacked the latest unit to arrive from Canon, The new unit is the PIXMA MX525 and, like the earlier model, is a multifunction device offering the user print, copy, scan and Fax capabilities. The PIXMA MX525 was extremely similar in appearance with its rounded corner plinth top and reflecting black coating. Even the dimensions of 358 x 200 x 455mm (D x H x W) were similar. However there are some cosmetic and functional differences that become evidence over time.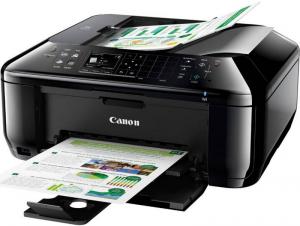 click image to enlarge
This one-box unit follows the usual arrangement of the inkjet printer with accompanying input/output paper trays supporting an A4 flatbed scanner that is topped off with an ADF (Automatic Document Feed). Tucked away out-of-sight at the rear of the box are connections for mains power, USB, telephone line, external device such as a telephone or answering machine, and wired LAN. A second USB option is at the front when you need to access material stored on a camera or flash stick.
Located in the right front corner of the printer is a compartment for inserting/replacing the two (black and colour) cartridges. Drop-down flaps reveal the openings for paper input with a capacity of 100 pages and output for printed documents. Both these flaps have extenders but the only really useful one is on the input flap. This should help ensure printed documents are not scattered over the floor.
Positioned along the front of the sloping A4 scanner cover is the unit's control panel. Initially this control panel seems to be missing a usable telephonic number pad. The buttons are there but they lack the alpha-numeric embellishments. However this omission is put right when you have inserted the supplied telephone connection lead and pressed the Fax option. The pad then displays the alpha-numeric designations. Other features of this control panel duplicate those found on the MX395. There are buttons for power, copy, Fax, scan, set-up and menu plus increase, decrease, back, colour, black and OK arranged around a 6.2 cm LCD screen providing feedback.
The usual collection of software is provided on a CD. You can cherry pick from items that include MP Drivers, User's Manual, My Printer, My Image Garden, Speed Dial utility, Quick Menu, XPS Driver and Easy WebPrinter Ex. While most of these items should cause no problem, you might find it necessary to download a later version on Easy WebPrinter Ex as the version supplied does not work with Internet Explorer 9.
The software installation will also check the link to a computer whether you are using USB, Ethernet or Wi-Fi with an automatic WPS set-up. With the latter, a small blue light on the front of the box will glow to indicate when a connection is made and flashes to show any activity. All my print tests were carried out using a Wi-Fi link.
The Canon print driver has three main settings for quality. These are Fast (sometimes referred to as Draft), Standard and High. Fast mode is suitable for those documents which require further work while Standard and High modes produce documents when general and important print tasks are the requirement. Using my usual 102-word document in monochrome and colour with an additional image, my tests produced results that were extremely similar to those achieved by the PIXMA MX395 model.
0Fast21ppm10ppm
Canon PIXMA MX525
Type
Monochrome
Colour
Standard
17ppm
6.5ppm
High
6.5ppm
1.5ppm
With the automatic Duplex option turned on, a 10-page (4940-word) document was printed in 5 minutes 16 seconds in Standard mode.
The unit's A4 flatbed scanner has a resolution of 1200 x 2400 dpi. It can be used to send content via Fax using the 30-page ADF unit; straight to the printer to produce photocopies; or direct to an attached computer with a choice of TWAIN or WIA interface. Faxes can be sent in either monochrome or colour with speed rates of 1 minute per page or 3 minute per page respectively. Up to 50 Fax pages can be stored in memory and there is a limit of 19 locations for a group send. A single A4 page monochrome photocopy was produced in 22 seconds. Switching to colour increased the time required by 50% to 33 seconds. A 10-page document, using the ADF module, was photocopied in 112 seconds.
As part of the software supplied with this multifunction device, you get a copy of Canon's My Image Garden which offers image management facilities. I used this software for printing various photo images using Canon's photographic paper. A borderless 10 x 15 cm print took 49 seconds while an A4 print required 2 minutes 34 seconds to complete the print run. Image quality, in both cases, was of a reasonable standard.
This solid looking multifunction unit, with local, network and Cloud printing facilities, performs well without being exceptional. Expect to pay in the region of £100 for the PIXMA MX525. Replacement cartridges are priced at £12.95 for black and £28.14 for colour. The PIXMA MX525 is compatible with both the Windows and Mac platforms requiring Windows XP (SP3) and later or Mac OS X 10.6.8 and better.
http://www.canon.co.uk/For_Home/Product_Finder/Multifunctionals/Inkjet/PIXMA_MX525/index.aspx