Epson All In One PX730WD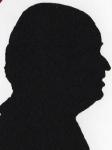 This is a very sleek unit – almost flattened – so while the height is tiny there is some width and depth increase. It is a six ink offering ideal for those who need to print decent images, however it still scans and copies.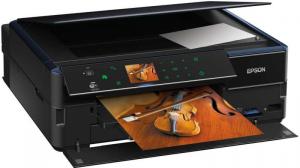 click image to enlarge
The Epson PX730WD Epson All In One PX730WD measures 43x52x15cm, for those who place things on shelves – it would need to be a wide shelf so maybe the top of a low cupboard would be better - another 5cm should enable things to be slipped under the landscape scanner lid. The power lead enters back left and both USB and or Ethernet cables enter back right of this unit.
All the other controls are on the face so even if the shelf is at head height you should still be able to read them all. If fact anyone using this low down is at a distinct disadvantage but not so as the whole panel – controls and TFT – lift at 90degrees so can be seen and operated from above so you could even use it on the floor.
Going from left to right with the controls first is the on/off button with an LED beside it when on, below this an LED bar illuminated when Wi-Fi is in use, next the Home button and then reduction and enlargement touch controls. Now at the centre and the 5x4cm display which displays eight separate icons when in the Home window.
Nexy is the ubiquitous five position joystick control with four other touch controls making three columns of three controls, finally two warning LEDs. This is a simple yet well thought out control grid which only lights the available options.
Under the shelf is the single input tray that is stated to hold 120 sheets, to the right of this are two card slots and a USB port. All these are hidden when the unit is off by a drop down lid that opens automatically at print time. Output is delivered just above the paper input tray. The landscape scanner lid is inset 4cm from the front.
There are five printing modes Draft, Text, Text and Image, Photo and Best Photo. As always the speed is decided in Draft mode. 24PPM for the nonsensical 200 word document and 20PPM for the more normal 1500 word document spread over four pages. In both cases the output was a little grey, I suggest the slightly slower Text mode for any correspondence, and this is a nice sharp solid black.
Printing on photo paper of either an A4 borderless image or four near 15x10cm images on a single sheet took 1 minutes and 15 seconds in Best mode, the latter using the rather good Epson software to select and prepare images.
Scanning can be done from any package of your choice or again from the Epson software their Epson Scan module allows you to select colour or monochrome and also quality and output type and in this case OCR is an output type. The time of course varies according to quality and output type but all seem to be quite acceptable.
Copying of colour or monochrome is done direct from the unit without the PC needing to be on or even connected. Copying a single monochrome or colour image both took 15 seconds from making your selections. The front screen gives one touch choice for colour or monochrome, Density of image and number of copies. Delve one more layer to reduce and enlarge and these include double sided, two up copies and much more. This really has a lot of power and a whole article could be written on what this panel can do for you.
Part of the reason for the added depth of the unit is the built in duplex unit that works well. A separate tray within the upper part of the input tray for 15x10cm photo paper, CD printing and the ability to Backup photos all things that make this an All In One with more to offer than most. It is available from the first link below for £143.99 including delivery, certainly worth considering for those who want that bit more.
http://www.amazon.co.uk/gp/product/B005H36OV4?ie=UTF8&tag=gadge0a-21&linkCode=as2&camp=1634
http://www.epson.co.uk/Store/Printers-and-All-in-Ones/Epson-Stylus-Photo-PX730WD/Tech-Specs