An Epson Multifunction Unit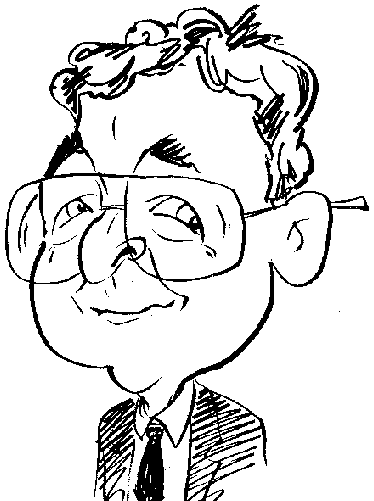 Review controls
It has been a long time since I last had the opportunity to check out an Epson printer. If memory serves me correct (actually it was a more reliable Filemaker database that provided the information), the last model was one of the Perfection series that were current four years ago. The arrival of the Epson BX320FW model saw an end to this situation.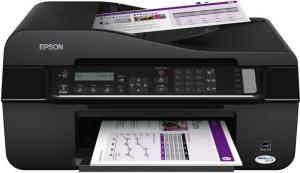 click image to enlarge
Opening the fairly large box revealed a predominately matt black multifunction unit offering print, scan, copy and fax features with an ADF (Automatic Document Feed) unit. Looking like it might put a strain on my fragile back, I was pleased to discover that the actual weight of the unit was less than its initial appearance suggested. Weighing 7.4kg and with dimensions of 460 x 403 x 235mm (W x D x H), the BX320FW is not too demanding with regards to work space needs, although the rear attached mains power lead does mean you can not site the unit flush against a wall. Box shaped with rounded corners and the top-mounted ADF unit with its gentle sloping design, my first impressions were certainly positive.
After attaching the power lead and switching the unit on, you will need to select language, date and time settings which do introduce you to a sloping control panel located near the top of the unit. Just under half of the control panel area is taken up by the alphanumeric keypad and buttons for handling faxes. A two-line LCD window along with buttons for Copy, Scan, Menu, monochrome and colour output plus a four-way navigation pad are also present.
Once the four ink cartridges (black, cyan, yellow and magenta) have been inserted into the body of the printer, you can add paper to the rear-mounted paper flap, which can hold up to 120 sheets of A4 paper, and run a test print. Although appearing a little flimsy, the paper tray carries out its task competently. Paper output is from a mouth opening with an extendable flap beneath the control panel. You can then connect the phone line for fax use with detailed step-by-step instructions in the basic Operation Guide.
Whether you decide to make use of BX320FW wireless/Ethernet or USB connectivity, you will need to install the supplied Epson software first. This software consists of print and scan drivers, various electronic guides, Event Manager, Easy Photo Print plus network and fax utilities. At the appropriate stage you will be advised when to decide on a WiFi/Ethernet or USB set up and carry out the necessary steps. A separate WiFi/Network printed setup Guide is included in the package. You also get a copy of Presto! PageManager 8 on a second CD. Installing the whole package creates five icons on the desktop for Scan, Network Guides, Easy Photo Print, Manual and Presto! PageManager. You also get a Presto! PageManager tool bar.
You can send faxes direct from the BX320FW using either the scanner bed or ADF unit and from the computer. Options are available for group sending or faxing at a specified time. Five speed dial buttons can be set up for regularly used contacts.
The A4 flatbed scanner sits on top of the inkjet printer unit and has an optical resolution of 1200 x 2400dpi. As is usual with multifunction units, you can scan direct to your computer or straight to the printer in photocopy mode. Options are also available to scan to PDF or email. Single sheets can be scanned from the scanner bed while multi-page documents can made use of the ADF unit.
An A4 colour photocopy was produced in 31 seconds with reasonable quality. Running tests using the ADF feature produced some mixed results. In some cases two sheets were drawn through simultaneously while on other occasions only half of the page was printed. When trouble-free runs occurred, a good quality copy of a 10-page document was produced in 110 seconds.
The Epson's print driver supplied with the BX320FW gives you a choice of methods for setting the print quality. You can either select from various presets or choose one of the quality options. Using the default Fast preset option with a 102-word monochrome document churned out 40ppm. While I would not want to use this setting for important documents, it would suffice for editing purposes. Switching to the High Quality preset resulted in a dramatic drop in speed to 6.5ppm with an improvement to very good print quality. Maybe the quality was not of laser standard but it was good enough for many tasks.
Introducing colour to the text and adding a small coloured image resulted in 13ppm in Fast mode. High Quality mode was much slower and produced 2.25ppm. As before Fast mode would be fine for internal general purpose use with High Quality taking over for those important documents.
While not really designed for photographic printing, the BX320FW could be used for this purpose if the need arises. Making use of the supplied Easy Photo Print software, I printed out images on 10 x 15cm and A4 photographic paper. In each case I selected the borderless image option. The 10 x 15cm print took 3 minutes 17 seconds and the A4 print required 7 minutes 20 seconds. Generally the quality was fine with the 10 x 15cm image slightly preferable.
Apart from the problems I encountered when using the ADF, I was happy with the performance and print quality achieved with this multifunction unit. Once I had worked out that I needed to use the unit's menu system when replacing an ink cartridge, this was a simple process. Replacement cartridges are available at £12.17 each or as a four-pack bundle costing £46.49. Original launched with a recommended price of £149.99, the BX320FW is currently available at £99.99.
http://www.epson.co.uk/Printers-and-All-In-Ones/Inkjet/Epson-Stylus-Office-BX320FW