Tiny HP Wireless Laser Printer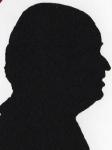 Review controls
A small wireless laser printer that cannot annoy the lounge police as it can sit in a cupboard of behind the sofa and once you have connected it to a recent PC by a USB lead everything is done automatically no need even to insert a CD.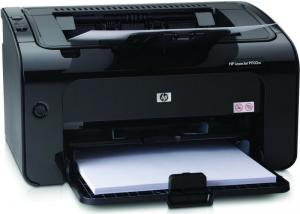 click image to enlarge
Installation can therefore be done on a Netbook without having to transfer files to a memory stick. It is just attach the printer via a USB lead the 'device driver' is recognised, wait a few seconds and it then installs the required files (on my Windows 7 system it was 10 minutes and 237MB of hard disc space) you are then asked to disconnect the USB lead and you then print a test page, it works, now that is for me finally is some good progress.
Of course you can still install it by using the CD and then choosing either wireless or USB as your method of connection.
It is 34x20x19cm when closed. Plug in the mains lead (back left) and open the paper input tray (bottom front) and the second figure the depth becomes 34cm. If you are using a USB lead this adds nothing extra to the depth total. It could even be placed on a shelf as the total weight is less than 5.5kilos with a stack of paper.
The specifications say 'up to 18PPM' which I assume is for letter paper. Using A4 I got 17PPM and this was for a mixed bundle from a standard letter to spreadsheets and even a fairly large database printed four pages to a page. Unlike an inkjet it just prints a page regardless of content at exactly the same speed, the advertised speed.
While there is the normal software on the CD-ROM one of the selling points is e-print. This is a system that allows you to print from anywhere using email. As they say if you can email it you can print it, so you can print while you are miles away from the printer.
Of course not only can the web provide the ability to print (via email) it also provides a whole range of printer apps for all the family, just because this is a mono printer does not exclude you from the apps. Mono prints can often look far more interesting than colour ones as you are forced to recognise shades of grey as well.
Of course the family apps are more slanted to kids with offerings they will recognise from Disney, Crayola and Little Leaf. Travel apps from Arrival Guides and Mappy can help you. What are called Everyday Apps Calendar, Sudoku and Quickforms are examples. Other examples are News, Entertainment, iApps, Creative Studio, Photo Print and Smart Web Print all and more are available for you to download from the HP ePrint Centre.
On first switch on you could receive the first page out in less than ten seconds. In fact I noticed very little difference in printing via USB or Wireless, yes my wireless router was only a couple of rooms away but the print started just as quickly as when I tried it with USB.
Power consumption using wi-fi is 370watts while in standby it uses 2.7watts; it also has an auto off mode that uses only 2watts and with manual off mode .6watt. So to truly turn the unit off pull out the power lead from the back.
Print quality was excellent nice crisp letters and sharp black output. One of my test pages that may seem not to apply to a mono laser is a PDF file containing the London tube map and while the colour makes things a breeze you can still follow tube lines using greyscale and the second page is a station listing for a grid to find a particular station and this is always small print but still extremely readable for what is huge tube map produced on a pair of A4 sheets.
Doing my Internet searches found the HP LaserJet Pro P1102W at best price of £97.48 from first link below.
http://www.amazon.co.uk/gp/product/B003ANMPTI?ie=UTF8&tag=gadge0a-21&linkCode=as2&camp=1634
http://h10010.www1.hp.com/wwpc/uk/en/ho/WF06b/18972-18972-3328059-3328066-3328066-4110394-4110401.html