-HannsPad-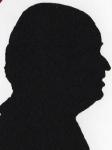 Review controls
This is the size of a Netbook but it is an Android tablet, as far as I know this is the first non screen type device produced by Hanns.G although of course it has a screen, a rather nice touch screen at that, but its all about what's inside.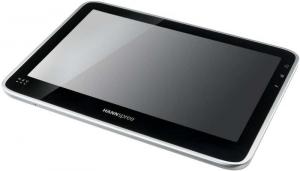 click image to enlarge
It is 26x17x1.5cm and weights 750grams. The viewable screen is 22x12.5cm that is 10.1inches diagonal measurement.
The back is matt black, the edges are silver why then must the screen surround be shiny black and show all the finger marks! The screen is also rather reflective so when out and about in sunlight you need to get the angles right.
The bottom left of the face has three LED's power on (green) charging (red) and wireless connected (green). The only other controls are top of the front right side Home, Menu and Back keys. It comes with 16GB internal memory, and you can add as much again in a micro SD card.
The bottom edge has a built in microphone, the right side is clear, the top has volume controls and the on/off button.
This leaves the left side that has mini USB connector, HDMI outlet and headphone outlet. Further down the side is a micro SD slot for additional storage and the DC power input. The back has a small speaker that is ok in a quiet room.
While it comes with some Apps loaded others can be downloaded from the Hanns.G app store (some are chargeable) and you should also be able to download others from websites as it has a perfectly respectable web browser.
However not all apps work as you might hope for instance I have a number of Kindle books, there is a book reader provided but of course this will not read Kindle books. I tried downloading the Android reader from Amazon but for some reason it will not do so, however it can be downloaded from a third party website and it works correctly and you can even purchase books in the same way as with a Kindle and have them delivered wirelessly.
This is what a Tablet PC was originally meant to be something that you can carry around but still a screen large enough to read without having to enlarge normal text all the time, so unless the web page has a lot of small type read it as you would on a PC, to move down or up (or left or right) just touch the screen lightly in that direction.
One note of caution some Android apps expect a small screen and just will not work on a 10inch offering but most I tried worked fine, so if you have a useful app on your phone it will probably work on the HannsPad as well.
A two second push on the on/off button will start the boot and although it is quicker than most PC's at around 30seconds it could be faster. Battery life was close to 8hours with around 80% screen brightness which is a lot better than most notebooks offer for battery use, and a recharge – while off – took just over two hours.
There are other Android devices out there from 'known' PC manufacturers so far I have not been able to review any, however if they are as good – and as easy to setup – as this one from HannsPad then they are well worth considering.
The onscreen keypad is easy to use and when screens need to be enlarged or rotated this is very easy to do as well. Setting up a wireless connection is a once only task it finds all the available connections in the locality you enter your passcode and that's it, automatic connection very quickly whenever you turn on assuming you are in range.
The HannsPad is available from the link below for £249
http://www.carphonewarehouse.com/broadband/tablet/buy/HANNSPREE-HANNSPAD-TABLET?portal=MSNSEARCH&promo=PPCPAYM&ppc=true