Canon PowerShot D10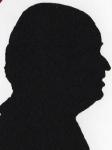 This is quite a squat offering and it looks almost child like with large buttons and rather garish colouring, very unlike recent PowerShot offerings, there is however a rather good reason for the PowerShot D10 strange appearance.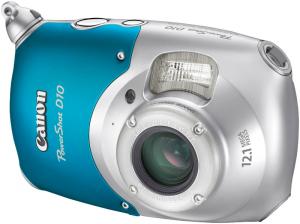 click image to enlarge
This digital camera is usable under water and I assume this is the reason for the electric blue front. The shape is also probably for the same reason. I am afraid taking it out in heavy rain and putting it a bath is the nearest I got to 10 metres under water, but in this weather the thought of swimming is not really top of my hit list of things to do in the UK in winter, not even in an indoor pool and I doubt if 'health and safety' rules would allow a camera anyway. So I will have to take Canons claim of 10 metres as true without me testing it out.
The PowerShot D10 measures 10x5x6.5cm and weights 207grams and has 3x optical zoom.
My first thought if you are swimming is that you need a wrist strap anchor point and there is not one. However for normal shooting one is not really required.
Each of the four corners are rounded and have a sort of clip/screw fitment designed for an optional harness arrangement, the top has a large on/off button and an even larger shutter release that works in the conventional half way down to frame and fully down to shoot. The left side is clear. The right side has a clip and slide open door behind which is D/C input and A/V outlet. The base has a similar door behind which is the solid battery and SD card slot, also on the base is a standard tripod screw. The face has a fixed lens that protrudes beyond the main body and a slightly recessed flash immediately above the lens and about 1.5cm behind it.
This leaves the back dominated by the 5x3.7cm TFT display. There are three buttons above the TFT and a further four and the ubiquitous five position joystick arrangement beside it. All are well labelled and no doubt the larger buttons are so they are easy to find when under water. Unusually the wide angle and telephoto buttons are separate probably because the lens does not move so the work is done inside the camera.
My only tests with water were using it in the rain and placing it in a bath of water (no tell tale bubbles) and then using it after the dunking without and problems.
There are seven image mode 12MP, 8MP, 5MP, 2MP, VGA and widescreen 12MP. While I tested them all the majority of images I took were in 5MP 2592x1944 mode, I printed out numerous images at A4 and even selected a portion on some without any visible pixelation. An image at 5MP will take something just over 1MB of card space. An 8MP image should easily be able to print an A3 image. I selected around a quarter of a 12MP image and easily produced an A4 image from it in fact I went even further before I got a trace of pixelation.
I was especially pleased with the video quality, 640x480 movies took around 80MB per minute of video. As regular readers will know I always test the cameras at local gigs and was delighted not only with the video but also the audio as it captured sounds that I could not hear although I was seated quite close to the musicians.
The price does seem a little high to me but should you need to use a camera under water this does require extra unusual components and it will never be a huge seller, it does perform fine out of water so if you can live with the vivid colours and the larger than normal buttons and you also need the occasional under water use then you could also use it out of water be in on the beach or for more conventional use. I do think that the harness arrangement whatever it is should be included in the price and of course the TFT still needs protection when being transported.
Doing my Internet searches found the Canon PowerShot D10 at a best price of £224.45 including free delivery from the first link below.
http://www.amazon.co.uk/gp/product/B001T9NH7E?ie=UTF8&tag=gadge0a-21&linkCode=as2&camp=1634
I found the Canon PowerShot D10 available for $289.95 including free delivery from the first link below.
http://www.amazon.com/gp/product/B001SER460?ie=UTF8&tag=gadge0a5-20&linkCode=as2&camp=1789
I found the Canon PowerShot D10 available for €270,26 including free delivery from the first link below.
http://www.amazon.fr/gp/product/B001T03KOS?ie=UTF8&tag=gadge04-21&linkCode=as2&camp=1642&creative=6746&creativeASIN=B001T03KOS
www.canon.co.uk/For_Home/Product_Finder/Cameras/Digital_Camera/PowerShot/PowerShot_D10/index.asp