Shared Printing with the Brother HL-2250DN

With the HL-2250DN Brother has produced an entry level mono laser printer to meet the needs of a growing number of homes and small businesses who have a limited budget but need a networked printer to be shared between two or more computers.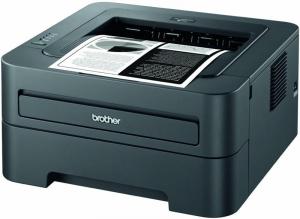 click image to enlarge
It is ideal for those migrating to a laser printer for the first time as it is low cost, only occupies a small amount of desk space and is easy to set up and use. Furthermore, it has an attractive matt black finish so would not look out of place in the living room if it has to be moved to there from the office.
Start-up instructions are provided on a double-sided A2 (luckily folded) sheet and there are two CDs -- one with drivers and utilities and the other with documentation. USB and networked operation for both PC and Mac is covered.
Installing it as a networked printer was straightforward and culminated with the printing of a duplex (double-sided) test page. The paper tray has a capacity of 250 sheets. In addition, there is a letterbox style single-page manual bypass which can be adjusted to suit the width of the paper being used.
Printer properties give a whole range of options. Default resolution is 600 dpi with other options being 300 and HiQ 1200 dpi. Then, as well as standard quality paper there are a number of setting encompassing thin, thick, thicker paper envelopes and labels. However, although I found it very satisfactory on most types of stock, even with the rear door of the printer open to give a straight-through paper path, the trailing edge of a cheap envelope was scrunched up if inserted portrait orientation. This was resolved by inserting it in landscape format.
The up to 26 pages per minute claim seemed fractionally optimistic as I timed it at 24ppm. However, this is a minor point. What is more significant is that it only takes about 10 seconds to wake up from sleep mode and print the first page. In sleep mode power consumption is less than 1W so that the printer would consume less than 1 unit of electricity even if it was left on 24 hours a day for a month. While many people will say that you shouldn't leave a printer on when not in use, it is often the only realistic solution for a shared printer with users having different work patterns throughout the day and (even) night.
With automatic duplex printing, it ejects the paper having printed the first side. It then pulls it in again to print the second side. It handled an ordinary grade 80gsm paper without any problems.
It is supplied with a "starter" toner cartridge which can print about 700 pages. The user then has the choice of buying either 1,200 or 2,600 page cartridges. Taking into account the maker's figures for drum and toner life printing should cost around 2.5p per page. While this is noticeably higher than that of more expensive laser printers which use higher capacity cartridges it is, nevertheless, appreciably cheaper (and faster) than using an inkjet printer.
While one can understand that, in order to keep the price down, no USB or network interface cable was supplied. However, it would have been useful if this fact was noted on the outside of the box. This would prevent the purchaser, having just taken it out of the box, finding out that they needed to go out and buy one.
This printer, which is priced at £127 + VAT, should be able to cope cost-effectively with virtually any mono printing requirement in the home or small office and, at the same time, will not appear out of place in either environment. Consequently, it could well be an attractive proposition for many people.