Kodak ESP Office 6150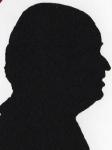 Review controls
Most people say if it has fax it's a multi function unit, why then do Kodak call this an All In One? That I cannot answer but I can be more helpful by telling you about the abilities of this ESP Office 6150 unit from Kodak.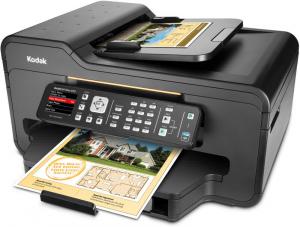 The Kodak ESP Office 6150 measures 41x37x22cm, add another 10cm to the depth when the paper output tray is pulled fully out. It weights 8.5kilos.
There are five connections all in a vertical row on the back right of the unit but none protrude as the paper handling causes a protrusion on the rear of the main unit. From bottom up they are phone line in, phone line out, D/C power in, Ethernet out and USB out.
The front has a panel that clicks up 45degrees from vertical that has a TFT screen (4.5x3.6cm) and then 29 buttons and two LED's.
This is a brand new unit and I was somewhat surprised during the software installation to do a firmware upgrade to the unit (shipped with version 1.5 and upgrade to version 2.4). The total space taken by the software is 280MB and the total time taken in all was just on 20 minutes.
This is a six ink two cartridge unit, black in one and five colour shades in the other. Installation is very straightforward.
There are three modes possible, USB, Ethernet or Wireless.
First let's deal with printing. My 200 word monochrome document in draft mode came in at 15PPM, while the 1500 word monochrome document (spread over four pages) was 12PPM. Until I looked at the claimed speeds I was perfectly happy with the speed and the fact that output was still nice and sharp and black, unlike some other manufacturers draft modes. Why however does Kodak still insist on claiming unobtainable printing speeds.
Printing an A4 borderless graphic on photo paper took a quite acceptable three minutes. The only claim for graphics was for a 15x10cm image - 29seconds - but that according to the footnote this is for fastest mode and surely for photos you always use best mode. I printed a 15x10cm borderless image in 45seconds from sending.
Copying can of course be done without the PC being switched on or even attached, there are a range of settings and options available to change via the TFT but accepting the defaults I copied an A4 colour image in 35seconds and the same image in monochrome in 20 seconds. No doubt multiple copies would be a little faster but as the only claim was in the high twenties I think this is more than a little far fetched, why not quote single copies after all this seems to be aimed at the home office or Soho user and I doubt many will use an inkjet to do 100 copies.
Scanning worked efficiently using the Kodak Scan module but this requires Internet access to work. The other method is to use the Icon that displays in 'My Computer' when the unit is switched on, this opens the OCR software provided and lets this do the work for both OCR and images its not exactly the quickest process.
There is an ADF (auto document feed) on the unit as well as the flatbed and should you want it duplex printing is an option from the rather nice printing menu that is both bright and clear and easy to follow for a novice. Having both Ethernet and Wireless is a plus the stated 200 sheet input tray is perhaps rather an ambitious figure. However with Kodak you pay more for the unit but less for the ink.
Doing my Internet searches found the Kodak ESP Office 6150 at a best price of £171.23 including free delivery from the first link below.
http://www.amazon.co.uk/gp/product/B0038R1EWK?ie=UTF8&tag=gadge0a-21&linkCode=as2&camp=1634
I found the Kodak ESP Office 6150 available for £192 including delivery from Amazon on the first link below.
http://www.amazon.com/gp/product/B00007AKDL?ie=UTF8&tag=gadge0a5-20&linkCode=as2&camp=1789
I found the Kodak ESP Office 6150 available for €247,90 including delivery from Amazon on the first link below.
http://www.amazon.fr/gp/product/B0038R1EWK?ie=UTF8&tag=gadge04-21&linkCode=as2&camp=1642
http://shop.kodak.co.uk/store/ekconseu/en_GB/pd/productID.170164400