Epson PX710W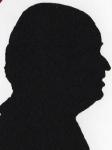 Review controls
It has been a while since I had the chance to look at an Epson unit. In fact I first saw this last summer and it has taken till well into the New Year – and a lot of nagging – for it to get to me. So a simple question was it worth the wait?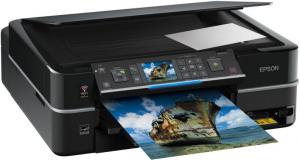 click image to enlarge
The Epson Stylus PX710W is very compact for an A4 All In One unit at only 43x45x14cm with cables inserted. The only extra space you will need is around 15cm in front when it is printing. It is totally black so it might not meet with approval from the lounge police.
Not only is it a standard All In One unit but it can do all sorts of fancy things to images that standard units cannot.
There are a total of 20 buttons on a lift up portion of the front 25x6.5cm this can go through 90degrees from vertical to horizontal to suit any viewing angle. It has a clear TFT 5.3x4cm so you can see what is happening all the time. When printing there is a blue strip on the front edge that lights up during printing, all error messages are clearly displayed in a single screen. During my tests I never had a single paper jam despite using my normal mix of paper types and weights mixed together but everything just printed correctly, well done Epson.
First as a text printer, in draft mode it churns out pages at 20PPM for the nonsensical 200 word test document. It still gets 16PPM for the more normal 1500 word document split over four pages, text is grey but perfectly clear and idea for checking. Of course you get nice sharp black prints in normal mode but it prints slower.
Printing either four near 15x10cm images or an A4 borderless print on glossy photo paper takes around 100 seconds, these images are sharp and have good depth, a lot of my test images were taken with the Samsung twin screen model (reviewed a week ago) at 3MP resolution which according to the camera is only good enough for A5 images.
The paper tray supports both A4 and various sizes of photo paper, apart from the A4 photo paper that goes in the base where normal paper goes all other sizes fit in a rack suspended above and you just adjust to suit the various sizes, once you wish to print using this smaller media just push it backwards and press print, easy to use.
Copying direct from the unit is quick and easy with lots of choices available from the TFT screen once you have made your choices the copy button changes colour and you press it. A colour A$ page takes 25 seconds while a monochrome one only 15 seconds. Ideal when you need a single copy quickly and the scan lid is slightly recessed allowing books and magazine pages to be easily copied without you having to keep a hand on the lid.
Scanning of course needs the PC connected. During the software installation three icons are created on the desktop one for printing one to display the manual and the third for scanning. Place whatever you need on the flatbed and press the scanning button. In fully automatic mode that is all there is to do, it recognises the document type and if it is colour or monochrome and delivers the scanned image to a folder. Of course for the more advanced user you can select what type of document and what you want done (including OCR) for yourself.
I have no space to describe the special extras so look at the second link; however certain tasks can only be done with certain paper sizes. There is a very nice oval within a rectangle option but for some reason this only works with the little used 9x13cm photo paper, yes you can print it on larger paper but it looks strange printed towards one side. With only that minor gripe the answer to the question I posed is YES.
Doing my Internet searches found the Epson Stylus PX710W at a best price of £129.99 including free delivery from the first link below.
http://www.amazon.co.uk/gp/product/B002JPKUMC?ie=UTF8&tag=gadge0a-21&linkCode=as2&camp=1634
I found the Epson Artisan PX710W available for $129.99 direct from Amazon, including delivery (click on the 31 new - the default price offered is more expensive from an Amazon partner!):
http://www.amazon.com/gp/product/B002JM1XQM?ie=UTF8&tag=gadge0a5-20&linkCode=as2&camp=1789
I found the Epson Stylus PX710W available for €135,78 direct from Amazon, including free delivery on the following link:
http://www.amazon.fr/gp/product/B002JI4G06?ie=UTF8&tag=gadge04-21&linkCode=as2&camp=1642
http://www.epson.co.uk/Printers-and-All-In-Ones/Inkjet/Epson-Stylus-Photo-PX710W