Canon Pixma MX320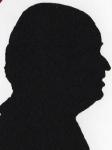 Review controls
Having recently told you about an HP OfficeJet that is black with white sides, this offering from Canon their Pixma MX320 is white (cream) with a black collar around the top. Like the HP it is a multi function unit meaning apart from printing, it can copy, scan and fax.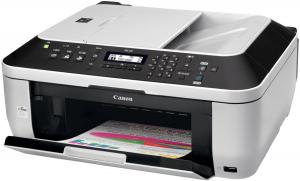 The Pixma MX320 is 43x38x30cm with A4 paper in the input tray at the rear and the last figure allows the landscape flatbed to be lifted 10cm to allow items to be slipped in for scanning. However there is also a page feed that means it could happily sit on a shelf as it weights around 8.5kilos.
There are a total of 28 buttons on the front lip as well as a two line LED display in the centre. The exit tray drops down automatically when something is being printed and this means you need around another 10cm clear in front of the unit.
As always the print speed tests include the nonsensical 200 word document and the timings for 'x' copies ignoring the first and last copy. This of course means that any thinking time after you press print and before printing starts is not counted.
The 200 word document printed in 'fast' mode comes out at 12PPM but it can be printed faster using 'custom' with the slider all the way over to fast, this gives 15PPM but the output is grey not sharp black as with the 'fast' mode. Printing the more normal 1500 word document spread over four pages comes out at 12PPM 'custom' and 9PPM 'fast'. For the little speed difference I would always opt for 'fast'.
For photos the main thing is quality not speed within reason. Using Windows Photo Printing Wizard and good quality photo paper with 'high' mode and borderless printing selected produced a nice A4 print in 4 minutes, if I selected 'standard' the printing time would be almost half but when I print images I am looking for quality.
Canon have an excellent range of software provided and this – on a reasonably fast machine takes around 10 minutes to install and takes around 500MB of hard disc space. This includes their Photo Print software that allows four near 15x10cm images to be printed on a single A4 sheet whereas Windows will only print four 13x9cm images the little extra along with other improvements and options makes this piece of software a joy to use.
Most All In One or Multi Function units allow you to copy without the PC being turned on. This can do that but the USB port front right also allows you to utilize the scanner function as you can scan output direct to a USB stick.
An A4 colour copy (direct from unit) takes 40 seconds while the same copy in black takes just over half that time.
Scanning is not that quick but again can be started from the unit and with Windows open gives you the range of options including OCR and even saving as a PDF. The Canon software is MP Navigator and this stores and sorts the types of documents portrait and landscape, pictures and business cards etc in separate sections to enable easy finding. The provided OCR software works fine with the normal proviso of give a good clean page and get a good OCR image.
Apart from the flatbed (great for books and magazines) there is also a 30 page ADF and this works well for longer documents. The fax works but I am unsure how important it is today. I find it refreshing that an on/off button is provided so you no longer need to pull the plug as you had to with a lot of earlier units.
Doing my Internet searches found the Canon Pixma MX 320 at a best price of £86.99 including free delivery from the first link below. For anyone needing the fax function this is a very good price for a multi function unit.
http://www.amazon.co.uk/gp/product/B001U3ZLNC?ie=UTF8&tag=gadge0a-21&linkCode=as2&camp=1634
I found the Canon Pixma MX 320 available for €96,11 including free delivery from Amazon on the first link below. For anyone needing the fax function this is a very good price for a multi function unit.
http://www.amazon.co.uk/gp/product/B001U3ZLNC?ie=UTF8&tag=gadge0a-21&linkCode=as2&camp=1634
http://www.canon.co.uk/For_Home/Product_Finder/Multifunctionals/Inkjet/PIXMA_MX320/index.asp?source=selector