Canon Pixma MP980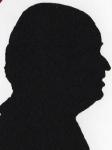 Review controls
Another quality inkjet AIO (All In One) from Canon. When closed it looks like a grey box with a black trim round the top edge. However lift the small lid at the front and a large TFT is revealed together with the buttons to control it.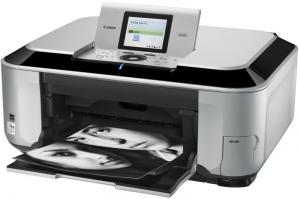 click image to enlarge
The Canon Pixma MP980 measures 44x38x19cm when closed, insert A4 paper in the rear tray and the last figure the height increases by 20cm, that is also enough to insert anything on the flatbed as it will enable the landscape lid to be lifted to around 45 degrees. The 9x7cm TFT display can be adjusted to anything just over 100 degrees from horizontal meaning if you are viewing from above or below you should be able to get a clear view.
Once out of the box and the six ink cartridges are installed you should be able to use it for copying straightaway. After you have installed the software then you can print and scan. I think it looks quite smart but I doubt many ladies would allow it in the lounge.
I connected by USB but you could use Ethernet or even Wi-Fi and hide it in a cupboard. There are eleven buttons (including two soft ones) and of course the ubiquitous five position joystick.
As a copy machine you can get six pages a minute in mono and three pages in colour. This does not require the PC to be connected. There is a good range of reduction and enlargement available.
As a scanner I found the best way was to click on Canon Solutions Menu and once you have selected the type of document you have a saved image in around 20 seconds. The OCR worked fine with the normal proviso 'give it a good original and you get a good copy'. You can scan direct from My Computer using the icon that is there as soon as the unit is turned on, but for some reason the Canon software is not one of the choices available although the same window opens. You can also scan 35mm film strips or direct from various memory cards. A nice piece of software that also provides a front end to Canon Photo Print that has been an award winning piece of software that makes printing of images a breeze even for a total novice user.
Printing the nonsensical 200 word document that all manufacturers base their 'claimed' print speeds on produced 20PPM in 'fast' mode this was still a nice clear sharp black print. There is a custom mode where if you setup totally for speed it can print at around 24PPM but the output is somewhat grey. Printing the more normal 1500 word document (spread over four pages) came in at 12PPM (fast) and 14PPM (custom).
Curiously looking at the specifications the only claimed print speeds were for 15x10cm images and this was 20 seconds. When printing A4 borderless images or four near 15x10cm images on an A4 sheet I found the print time was only around 60 seconds. I repeated this test several times but the time is correct. This was using the Canon Photo Print software. While I do not really mind if images take four times that long to print I am only concerned with quality, and, this was quite acceptable. I think however I should mention that off the top of my head I have never reviewed a faster A4 photo page with any inkjet printer in any price band.
This unit has two paper trays an inbuilt cassette for A4 printing on plain paper and the older style vertical tray at the rear of the unit that will accept everything and in fact is the only tray when printing on photo paper or envelopes.
You can also (with the correct CD/DVD's) print direct onto media – I could not test this as I do not have any of the required media - and if results were as good as previous units they will not disappoint, however do not try printing on standard CD's as the ink will never dry. The specifications (second link) give a couple of paragraphs on page yields for all the various available ink cartridges.
Doing my Internet searches found the Canon Pixma MP980 at a best price of £251.70 from the first link below including free delivery The Canon Pixma MP980 is available for $249.95 including free delivery from the first link below The Canon Pixma MP980 is available for €267,17 including free delivery from the first link below. Not by any means cheap but this is a true All In One and to get even it's scanning abilities in a single machine (film etc) would bring the price up a lot. Look at the specifications closely and should you be in the market for a true All In One machine this deserves a very close look.
http://www.amazon.co.uk/gp/product/B001EO6Z3C?ie=UTF8&tag=gadge0a-21&linkCode=as2&camp=1634
http://www.amazon.com/gp/product/B001DJ6C2W?ie=UTF8&tag=gadge0a5-20&linkCode=as2&camp=1789
http://www.amazon.fr/gp/product/B001EVO2O4?ie=UTF8&tag=gadge04-21&linkCode=as2&camp=1642
www.canon.co.uk/For_Home/Product_Finder/Multifunctionals/Inkjet/PIXMA_MP980/index.asp?specs=1