Kodak ESP5 AIO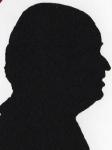 Review controls
This has been a long and frustrating review. The first unit was incomplete so it was replaced. The second had several paper jams and then decided 'cannot detect edge of paper' was it's message of choice, so it was replaced so this is unit number three.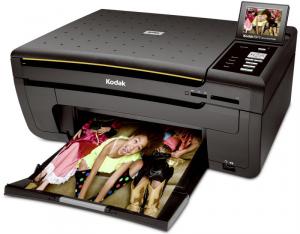 click image to enlarge
I have therefore given it a far more exhaustive test than in normal simple to see if the problems return. So far they have not I suspect that the initial problem unit was a 'Friday afternoon' unit.
It is 40x30x14cm when closed. The front has a drop down door that you store the paper waiting to be printed on, this increases the 30cm depth by another 20cm.
The USB lead and the power leads both enter the unit back right. The front also has the Pict Bridge connection at the bottom and at the top two card slots. The top has the landscape opening scanner lid and to the right of this five clearly marked push bars the ubiquitous five position joystick and above this the on/off bar with LED insert and another pin hole LED should there be a problem. Unlike the ESP3 I reviewed a few months ago this does have an 6x4.5cm TFT display, it tilts forward from the base to around 70 degrees so it should be useable in all lighting conditions.
As with the ESP3 the install completes without making the unit the default printer, fine if it's the only printer but useless if you have more than one. A quick visit to Control Panel/Printers can rectify this but it should not be required. Also worth checking that A4 is also the default paper this can be changed from properties at print time but again it should be the default in the UK.
Doing my speed tests using Draft mode produced 14PPM when printing the nonsensical 200 word document. Then onto the more normal 1500 word document spread over four pages this came in only slightly slower at 12PPM. For draft printing the quality was fine if a tad grey but clear and perfectly readable. A lot better than some but of course not that quick.
Printing on photo paper was a pleasant surprise in both the quality and the speed. You can by clicking an option in preferences print borderless and an A4 borderless print takes around 150 seconds and is all but dry when it emerges.
I have not mentioned for a while how these tests are conducted and it is useful to know. You select a number of pages to print – say 10 – you start timing as the second sheet starts to go through and stop after the ninth. Not a great test but that is the same way all manufacturers work, they take no account of the time taken before the printer starts to work or indeed any hesitation before the last page that is also normal.
Copying can be done without the PC being turned on or even connected. There are a few options but unusually just a single copy button so should you want a single black copy of a colour document it can't be done from the front panel. If it's black you get black, if it's colour you get colour around 30 seconds per page but the output was quite acceptable.
Giving a time for scanning is not really possible as if you click on the icon it creates in My computer it offers a range of choices but none of them the Kodak software. However during the install it does create an icon on the Desktop and this will eventually open a rather nice piece of software useful for the novice as it offers clear choices from drop down menus. Having chosen from one of the five choices it scans and then gives you the option to edit this allows enhancements, adjusts or cropping easy and simple to use. Next stage is to save to file, to email or print. The file types available are jpg, tiff, rtf or pdf. It works well and is certainly the highlight of the whole package.
Even though I have used this more and for longer than a normal printer test the only problems I have had is the occasional printer jam (3) and this was when it took an almightily uneven grab at a sheet of paper and it twisted through.
Doing my Internet searches found the Kodak ESP5 at a best price of £99.99 including delivery from Amazon on the first link below.
http://www.amazon.co.uk/gp/product/B001ANCLZS?ie=UTF8&tag=gadge0a-21&linkCode=as2&camp=1634
Doing my Internet searches found the Kodak ESP5 for $69.83, including delivery from Amazon on the first link below.
http://www.amazon.com/gp/product/B0016KISAC?ie=UTF8&tag=gadge0a5-20&linkCode=as2&camp=1789
Doing my Internet searches found the Kodak ESP5 for €149,15, including delivery from Amazon on the first link below.
http://www.amazon.fr/gp/product/B001ANCLZS?ie=UTF8&tag=gadge04-21&linkCode=as2&camp=1642
Details from the Kodak site :
http://www.kodak.com/eknec/PageQuerier.jhtml?pq-path=12945&pq-locale=en_GB