Portable scanning with the DocuPen RC-800

Published Oct 8, 2007 Author
petew
Review controls
Scanners have come a long way since the bulky desk-top units of a few years back. The DocuPen RC800 is the latest in a range of hand-held scanners for those that just need to scan on the move.
Buy Now
DocuPen RC800 Scanner
£179.99 from Amazon



The DocuPen is intended to be dragged down something flat that you want to scan. The device is intended for use on the move, scanning images and storing them for later retrieval by your computer.
Internal standard memory is 8Mbytes, which is fine for storing a few black and white pages of text, but is insufficient for much in the way of colour. Scanning a standard colour book cover created an image around 7Mbytes - so it's not going to go far!
Internal memory can be supplemented by adding a microSD card under the cover - sizes up to 512M bytes are supported.
The package comes with CD rom containing software, a USB cable and quick-start guide. A full manual is available on the disk.
Officially to package only supports Windows version 2000, ME and XP. I'm surprised they still support ME and more surprised that the software still hasn't been officially upgraded for Vista. The only machine I have available right now is Window Vista - so that's what I'm using for the review. Apple Macs are also supported.

DocuPen
Memory compartment
The only software you need to install is the TWAIN driver software that allows the scanner to talk to your favourite graphics programme. This installed perfectly. Also included on the disk is a straightforward software package called PaperPort. Unfortunately this come up with a standard unsigned warning and also fails to install some print driver on Vista. Apart from that it installed fine. Because there's a standard TWAIN driver though I did most testing using PaintShop Pro.
No OCR (Optical Character Recognition) software is included.
Using the DocuPen
For use on the go the DucuPen has a built in Lithium Ion rechargable battery, which is recharged by the USB cable. A full charge should give 50 minutes of use.
The scanner offers two scan resolutions : standard (100 or 200 dots per inch) and high (200 or 400 dots per inch). There are also three colour depths : grey-scale, 12 bit colour and 24 bit colour. When you switch the pen on it remembers that last settings.
Two buttons control operating. The first operates as power on/off and then selects between resolution with each click. The other cycles through the three colour depths. The current configuration and status is shown on a bank of coloured lights. These indicate colour and image quality as well battery status and the amount of memory you have free. The latter encoding various levels based on red/green/yellow colour along with flashing. As with many products this colour coding was wasted on me and the other 25% of the colour blind male population!
Once you've turned on the scanner you drag it over the thing you want scanned. An additional lamp tells you when you're going too fast. Too fast depends on the quality settings you have. In mono you're pretty much free to move it at a reasonable rate. In 24 bit hi-res colour you have to go pretty slowly.
Obviously you have to drag the scanner in a straight line if you want to avoid your subject becoming rather distorted. A reasonable roller on the underneath helps a lot with this. As long as you're on a hard surface, say a single sheet it's very easy to keep the scanner straight. Where you don't have such a good surface results can be a little crooked.
There is no way to erase images on the pen except by connecting to a computer, so if you run out of memory while on the road then you've had it.
Quality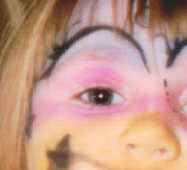 Approx 1 inch square sample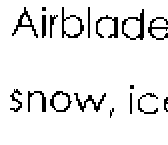 mono-text
scan
sample
I experimented with the various standard settings. The results were OK but nothing special. Scanning black-and white text at high resolution gave a result that was very similar to an old fax machine (see the sample). Colour high-resolution was better. Not as good as a flat-bed scanner though.
Connecting to the computer
From your favourite graphics programme you choose to import from your TWAIN sources. How you do this depends on the programme, but it'll be easy. Up pops a DocuPen specific interface. Unlike many scanners the pen has it's own memory and often has a number of images you've collected on your travels. You click on the download button and the drivers shows you a summary of those available.
At this point I'll note a particularly frustrating feature of the DocuPen - it turns itself off after every operation. When operating on battery this will probably get you a lot more life out of what must be a quite small battery. When connected to your computer however this is just a pain. Warnings are put up to ensure the device is on - but one lazy click without reading and the driver locks up causing you to kill the graphics application.
Summary
Great product if you really want to scan on the move - but I'd suggest getting yourself an extra memory card if you want to scan anything other than mono-text. It's probably also useful if you want an occasional scanner, but have managed to fill all your desk space with other gadgets. It's no replacement for a flat-bed scanner though in terms of quality.
With the price of an excellent flat-bed scanner around the £50-£100 mark, the DocuPen looks expensive at £199. With the price of a 512Mbyte MicroSD card at around £5 I'm surprised it wasn't included in the package - if you're going to buy a DocuPen, just order the memory at the same time!