Wireless All-in-One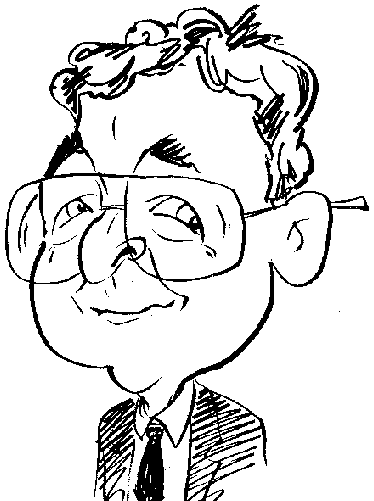 Review controls
Put together the components of an inkjet printer with duplex capability, a flat-bed scanner, fax features, card reading facilities with wireless connectivity and the results could well be the Lexmark X9350 product
Buy Now
Lexmark X9350 All-in-one
£174.99 from PC World


only £198.53 from DABs

X9350 £229.68 from Amazon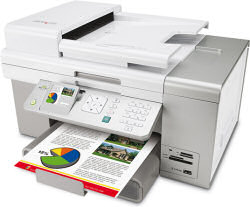 This Wireless Office All-in-One (AIO) device is the latest edition of the Lexmark family of products aimed at the small office and home office environment. Tastefully decked out in matt silver and pale cream, this box shaped unit has a protruding control panel and 150 paper input/output tray. Convenient hand grips, positioned on either side of the box, help when you need to relocate the X9350 for any reason. While not the smallest or largest such device around, the Lexmark X9350 does require a reasonable amount of work space and head room. It will require an area measuring 470 x 430mm (W x D) with at least 480mm of clearance overhead so that you can fully open the scanner cover which doubles as the ADF (Automatic Document Feed) unit.
Setting up the AIO offers a number of options with regards to connectivity. These options are clearly laid out in separate guides for Windows and Mac environments. You have a choice of Wireless, USB or Wired. With the latter two options you will need to provide the appropriate leads and cables. However before any connection is made you will need to insert the colour and monochrome ink cartridges. The X9350 uses the new Evercolor 2 pigmented inks which are water-resistant and should also not suffer from smudging due to handling or through the use of markers. This ink is claimed to last for up to 100 years when the image is displayed in a frame or 200 years in a closed environment such as an album when using Lexmark paper.
Apart from the wired connection, which requires a slightly different routine, the provided software will indicate when to attach the X9350 to the computer. Some patience is required as the software installation is rather time consuming. At one stage I was convince the routine had ended but then the Fax Printer Setting Utility kicked into action. Options will be given as online registration and whether or not to participate in the Lexmark Connect Program which collects data about the use of the printer but does not include any personal data.

For general printing tasks, paper input is via the front of the unit with the same location also acting in the role of paper output which might cause problems if you need to print on card. Even with normal paper the printer is rather sensitive with regard to quality. Using copy paper resulted in several paper jams. As you will need to access the back of the printer and remove the duplex unit in order to free the paper jam, this might not be the most convenient operation.
Some of the functions of this AIO device can be achieved without the intervention of a computer. You can send documents by fax and use the device as a photocopier via the scanner with or without the ADF facility with a 50 sheet capacity. Copy speeds were timed at 15 seconds for draft, 50 seconds for normal and 90 seconds for best when producing a full colour A4 copy. In addition you can print images from supported memory cards that include memory stick, xD, SD, MMC, CF and MD or by using the PictBridge port.
These activities can be instigated from the control panel with its telephone number pad and navigation pad. Feedback information will be displayed on the adjustable 2.4 colour LCD display. As well as selecting tasks, the LCD can also be used to navigate the unit's menu system and adjust default settings for various tasks.
Lexmark rates this AIO device as being capable of printing 32ppm monochrome and 27ppm colour when using draft mode. My tests, using a 102 word document with and without a colour image, confirmed these figures. Text was acceptable for most eventualities but the colour image was very washed-out in appearance. Switching to normal mode made little difference to text quality but there was a marked improvement with colour images. Print speeds did drop to 17ppm for monochrome and 9ppm colour. There was a further reduction with best quality, monochrome producing 8ppm and colour 4ppm. A full A4 colour image took 4 minutes 30 seconds while a 10x15cm picture was completed in 90 seconds.
The Windows / Mac compatible X9350 has been priced at £249.99. Replacement cartridges are available at £16.56 each or there is a bundle pack of both cartridges available for £29.80. While speed and print quality were generally acceptable, I do have some reservations regarding the unit's tendency to suffer from paper jams especially when access to the rear of the device might be blocked.
http://www.lexmark.co.uk/uncomplicate/product/home/236/0,7044,252735_408641_907187436_en_0_1,00.html
Searching the Internet - the Lexmark X9350 is available from PC World for £149.99.