Canon Pixma MP510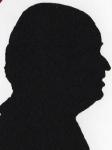 This is an All In One from Canon that, on first glance, appears to have no controls on it at all, just a grey, silver and black rectangular box with a lid on the top of the flatbed scanner.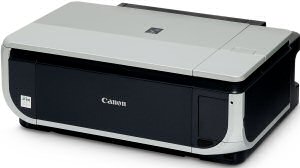 The Canon Pixma MP510 is 43x34x15cm when closed. Lift the paper storage tray at the rear and place some A4 in it and this adds 20cm to the 15cm height. The controls all sit under a flip up lid on the right top edge at the front of the unit including the 4x3cm TFT display that can sit at vertical or up to 30 degrees beyond to suit, so that viewing is always easy.
In front of this are seventeen buttons that control the unit all clearly marked as to their purpose. The power lead goes in back left of the unit while the USB lead goes in back right.
This is a four ink four cartridge printer, meaning should a single colour ink run out that's all you need to replace. When you install the inks you know they are correctly installed as a red light glows under each ink cartridge to tell you so.
It is possible to have A4 and 15x10cm paper loaded at the same time. Canon have some of the best software around for photo printing and are still the only company to allow you to print four near 15x10cm images on a single A4 sheet.
Doing the ubiquitous 200 word document came in at 14PPM in the fastest speed, it was slightly grey but perfectly sharp. The 1500 word document spread over four pages produced 12PPM at the same settings, not earth shattering but quite acceptable.
Printing photos was excellent and quick - not that I am really concerned with speed - an A4 borderless image takes 170seconds but may be a tad tacky to the immediate touch dependant on the type of photo paper used but colours were sharp and vibrant and the images have great depth. Printing four images on an A4 sheet was only a tad longer at 177seconds, they were just as good and I cannot recommend the Canon Photo Print software highly enough, easy to use and the range of options is far better than other software around.
Copying was a joy and the 4x3cm display shows everything clearly I got 5PPM copying black images and a tab over 2PPM for colour. Quality was as good as the original and on one occasion the only way I knew them apart was because the copy was on a piece of paper with something on the reverse.
Scanning is almost as simple and scan quality can be up to 4800x1200DPI. However even the default settings give excellent results both with images saved as graphics and the text that is OCR'ed and then imported into a word processor.
It is claimed that a 15x10cm image can be printed in 47seconds and while it is possible to get very close to this it is not in best mode and why would you ever print at other than best mode. This I achieved at just over a minute for a 15x10cm image.
You may not get maximum performance if you are using earlier versions of Windows and Omni Page does not support Windows 98 first edition, also this is a USB 2 unit and if using only USB 1.1 you will probably notice slower output.
Card types directly supported in the two slots hidden behind a door on the front right edge of the unit are Compact Flash including MicroDrive, Smart Media, SD and MMC, Memory Stick and Memory Stick Pro. XD needs an adapter. Of course you can print direct from any printer supporting PictBridge.
Doing my Internet searches found the Pixma MP510 at a best price of £66.69 from the first link below.
http://www.amazon.co.uk/gp/product/B000IFRSSE

Information from Canon's web-site :

http://www.canon.co.uk/For_Home/Product_Finder/Multifunctionals/Multifunctionals/PIXMA_MP510