HP Officejet 5610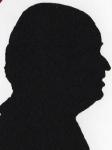 Review controls
This is a Multi Function Machine – as opposed to an All In One – simply as it also has a fax built in, so it's a printer, scanner, copier and fax in a single unit.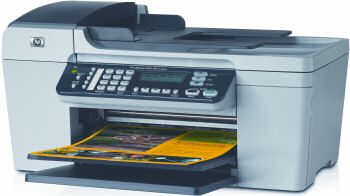 To do a full software installation for the HP Officejet 5610 takes 850MB of hard disc space it is possible to do a lesser install taking 400MB. I found the full install took around 20 minutes.
The unit is somewhat bigger than some other similar (all in one) units at 44x46x21cm with leads inserted. This - according to HP - is a business machine but it must be close to home/SOHO as the price is reasonable.
This is a four or six ink offering, as supplied it is tri colour and black but you could purchase another - different shades - tri colour cartridge to replace the black giving six ink in two tri colour cartridges.
This unit has an ADF (automatic document feeder) for up to 25 pages and for some this may be useful. It is stated to print at up to 20PPM black and 13PPM in colour.
During my tests I always try to achieve the stated print speeds and always fail, sometimes - occasionally - by a few pages a minute often - normally - by a lot more. Printing a nonsensical 200 word document the closest I can come to the secretly guarded test documents used by all inkjet printer manufacturers I got 12PPM in what HP call fast draft mode, unlike some other manufacturers this is clear, crisp and black. Printing a normal 1500 word document spread over four pages in the same mode came in at just under 10PPM.
There are four other print modes but I found for normal letters etc the 'Normal' mode was fine and printed at 600DPI against the 300DPI of fast draft.
You can copy pages (including some enlargement and reduction) without having the PC connected from the 30 key front panel and the two line LED display. You can also copy with a few more options from within Windows. Often it was hard to know the original from the copy and I do not often say that.
Scanning from the flatbed or the ADF worked well and there is some quite reasonable OCR software included in the software bundle provided. I tend to have to sign a number of documents that come in by email and are then printed, signed, scanned and then reemailed and I tend to use HP Director to do everything after the printing and signing, it even places the scanned document in a blank email for me to place a covering note and to whom it is to be sent. I would advise always to put some plain text in the document and not just 'your document attached' as I for one would never open anything of that sort.
Fax sending and receiving is something that is not as important to most as it once was, however it worked efficiently. I was pleased to have an on/off switch but of course the unit would have to be left on to receive faxes.
Even in four ink mode I was quite happy with the many photos I printed, the plain paper output was fine while the photo paper results were good. A full A4 image takes around seven minutes and the printing in this mode is all but silent. My biggest disappointment is that this unit is not capable of printing A4 borderless.
The HP Officejet 5610 is currently available for £76.47 from Amazon :
http://www.amazon.co.uk/gp/product/B000ANH046/202-9276050-9787028