PowerDVD 14 Ultra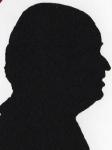 Every year Cyberlink find new features and enhancements to add to their products, these are enhancements which include faster working internally and extras added externally like Mobile Apps, Free Cloud Storage and much more.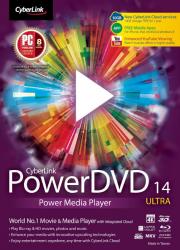 click image to enlarge
Cyberlink now have a subscription option offer like the one favoured by Microsoft but for those who still prefer to own outright the media they still offer that choice in three forms Standard, Pro and the one I was sent the top of the range Ultra.
I remember some years ago being sent a top of the range notebook that had a Blu-ray drive but nothing I had – or that they or Microsoft provided - would play Blu-ray movies, luckily these days things have improved and Blu-ray movies are just one of the many formats that Cyberlink handle for you and they play without any extra software requirement.
The mobile Apps offered from the iOS or Android store can turn your phone into a remote control to help control the display on your computer screen. There is another App available that with the aid of an eight digit code (provided) allows your display to be transferred across a range of devices, this is one of the features solely in the Ultra version.
When I first saw a pre release version of Power DVD 14 at a swanky London hotel earlier this year what impressed me was the ability to play You Tube videos – once pinned – offline. You can even upscale YouTube videos as well as change the playing speed. Those you use Flickr, Vimeo and Facebook also have some assistance offered.
10GB of Cloud store (for a year) is offered and for those who make a lot of movies this can be a useful resource. According to Cyberlink this is over 6 hours of HD video. With the use of your home network you can link not only videos but photos and music and join them together as output.
Music is now a very big part of any video as no longer are a few words from granny on a beach enough for a decent movie. The right music at the right time can convey a lot as for those special moments the incorporation of photos of loved ones no longer here.
It matters not to the Cyberlink package if your content is in 2D or 3D nor does it matter about the range of formats it can link them all to give what everyone wants a single seamless stream of media. So AVI, MP4 or WMV it supports all these normal formats as well as many of those of less usual types.
For those who download movies PowerDVD 14 can even improve the viewing pleasure of these.
I am sure a lot of us have problems – especially after a few drinks – of keeping the camera steady. Well there is some nice software included that could just about convince more sober members that you were not intoxicated when you took the video by making your shaky content look watchable.
Cyberlink goes further with the sound by allowing you to select the output to suit where it is to be shown so a small lounge would be very different to say a large hall or even a kitchen or bedroom.
For those with poor memories you can limit the movies viewed to those that have not been shown. This is part of a rather good indexing system that should allow you to find anything by a range of criteria almost instantly.
While it is still technically possible to install on Windows XP do check the requirements which are not huge by modern standards but the more memory and faster processor the better the response.
While it will be available in a boxed version currently I do not have a price for this.
Cyberlink PowerDVD 14 Ultra is available from the link below for £53.35 (download)
http://www.amazon.co.uk/gp/product/B00JWWLWAY?ie=UTF8&tag=gadge0a-21&linkCode=as2&camp=1634
For those who have V12 or V13 you can upgrade via the link below for £39.99.
http://www.cyberlink.com/store/powerdvd-ultra/upgrade_en_GB.html