PowerDirector 16 Ultra and PhotoDirector 9 Ultra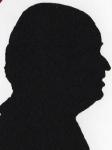 Both these award winning products are now available in a single box. So if you normally take videos but want to get a photo from a video or if it's the other way round then the solution lies in having both items to get the best possible results.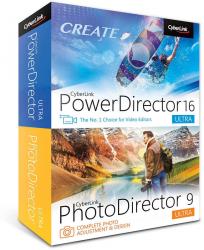 click image to enlarge
Two top of the range photo and video manipulation products supplied in a single box by Cyberlink, you not only get a good discount by buying both together but you also get a digital copy and 50GB of cloud storage for 12 months.
It comes on two DVD's, the basic programs are on DVD 1 and took ten minutes to install on my Windows 7 notebook, the installation took 2.69GB of hard disk space. DVD 2 has extra content for both packages.
There is a six side 18x12.5cm Quick Start Guide for Photo Director 9 and an eight side 18x12.5cm Quick Start Guide for Power Director 16. Best of all they are single language and both contain QR codes for the mobile versions. There is a separate 18x12.5cm sheet with QR code to download your digital copies and also to register for your 50GB Cloud storage.
The box itself has four sides of full colour information split horizontally for each of the products.
The system requirements are Windows 7, 8, 8.1 or 10. The minimum screen resolution 1024x768. Memory requirement is at least 2GB. The processor is Intel Core 'i' or AMD Phemon II, graphics 128MB VRAM and 7GB of hard disc space for a full installation. You do require Internet connection for initial software activation. Unlike some products that have a huge long string this is only sixteen characters.
So the new highlights for Power Director 16 are Dynamic Video Collages with Transitions, Titles, Themes, Masks, Menus and Picture-In-Picture all linked. True 360 degree editing of Titles and Transitions and Video Stabilization. Final headline here is Pro Colour Grading.
The new highlights for PhotoDirector 9 are Motion Stills more on this in a moment. Your own little planet allows you to use Polar Panorama to make your own local 360 degree offerings.
Motion Stills really are great they allow you to brush over the bits of an image that move and so only that bit is enhanced while the background – not moving – remains the same try it yourself and be amazed.
Remember CyberLink is the only package that has Blu-Ray playback for commercial products built in the last time I checked this cost the manufacturer $25 for each copy sold.
You may think that getting a still image from a video is easy, getting a snapshot is but to get a great still image requires good manipulation software to get to the point a good quality still camera can give.
Doing it the other way to import still images into a video or to make a video around still images also requires good implementation.
Having both video and still packages working together means you can get the best Video and Photo editing.
There are free trials of both packages available to download on the CyberLink site.
The Duo package of PowerDirector 16 Ultra and PhotoDirector 9 Ultra is available from Amazon for £100.44 with free delivery.