Boosting Performance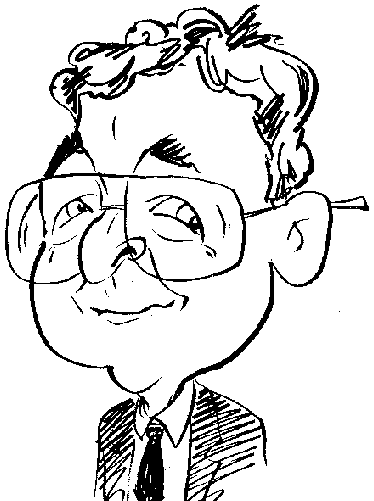 While your computer is capable of providing a multitude of features, they are not always required for every task. Sometimes they can slow down the computer in certain circumstances. This next product offers to help alleviate this type of situation.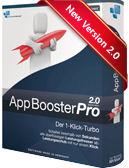 While the chameleon ability of a computer allows it to mould itself to tackle a variety of tasks can prove useful, on the converse side this same ability can get in the way when deciding how to allocate resources. The result can be a slowing down when heavy duty operations are in action as the basic settings do not suit every circumstance. Offering to help alleviate this problem of slowing down by allowing real-time adjustments to settings to be made, thus providing additional power to certain software applications, is the claim made by a utility from the Hamburg-based Appsmaker developer. Appropriate enough this software utility is entitled AppBoosterPro which is not up to version 2.0.
There is a free version of this software available but this review is based on the paid-for Pro version which has a number of additional features. By following the on-screen prompts, the installation of this software is straightforward. You will be given options to select the destination drive plus include a desktop icon and sidebar gadget as part of the installation. There is also an option to have this utility included as part of your Windows start-up routine.
Initially you can run this software in evaluation mode. This has a 14-day time period. In order to remove this restriction you will need to enter the 25-character licence key and thus gain continued access.
AppBoosterPro 2 takes a multi-stranded approach to its task. At the heart of this approach is the use of user-defined profiles. These profiles can be made up of background tasks and settings that can be automatically turned off when specified applications are activated. As a result memory will be freed up and made available to tasks that are resource hungry.
When creating a profile, which you can label with an appropriate and easily recognisable name, you start off by selecting the particular items that will be turned off. These items are classified as Mobile devices, printers and faxes, cameras & scanners, Bluetooth devices, ATI graphics utilities, and additional sound card tools. Information will be provided on-screen regarding each item as it is highlighted. Once you have decided which items will be targeted for removal, you can then choose application which will either activate a profile in conjunction with its start-up routine or will be launched when a designated profile is activated.
Any profile created will be listed as part of the sidebar gadget for easy selection when required. While this approach will have no or little effect on many applications, it can be useful when processor intensive and complex graphics applications are being run. This type of approach has also been adopted by one or two anti-virus/Internet Security titles.
A second strand of the approach adopted by AppBoosterPro 2 relates to boosting Internet connection speeds. This aspect offers features that let you choose between a manual or automatic adjustment to your modem and browser settings plus run benchmark performance checks. The benchmark tests check on the speed for downloading files and website loading.
Prior to any adjustments being made, the benchmarks for the test machine showed a file download speed of 274.61kb/s and 0.66 sites/seconds for website loading. Following an automatic adjustment, which required a system restart, the same tests were run on a number of occasions to check if there was any improvement. The fastest file download speed achieved was 288.56kb/s with website loading increasing to 0.83 sites/seconds. While hardly dramatic, there was at least some improvement, however slight, that might help justify this features existence.
Slight is not a word I am tempted to use with regards the third strand of the AppBoosterPro approach. Included as part of this utility is a hard disk defrag option. While this process is not the slowest that I have encountered, it was pretty close to being so. On a hard disk with 60GB of data and 161GB of free space, the defrag process took several hours to complete. I was unable to detect any improvement in hard disk activity following this process.
Maybe if I had been able to check out the product's manual provided online, I might have discovered the reason for the slow defrag and how to avoid it happening again. Unfortunately I am unable to read German which is all that I could find when checking out the company's website for the online-based manual.
While AppBoosterPro 2 can help speed up your system in certain circumstances, it does require some expertise on behalf of the user. The program can also drive up frustration levels as you wait for its defrag operation to complete and try to understand the German manual. Priced at £19.99, this program requires a system capable of running Windows XP and later.