Speech Recognition Come Of Age With Dragon 11

Speech recognition has come of age with the launch of Dragon Naturally Speaking version 11. After just a few minutes training I was able to achieve a very high level of transcription accuracy and was starting to get acquainted with the voice commands for editing and other purposes. This program could well change the way that many users interact with their PCs.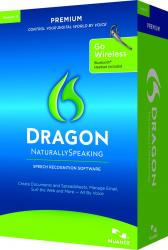 Although speech recognition has been around for many years the increased sophistication of the software combined with the improved performance of today's PCs has resulted in far more effective technology. In particular, this new version of Dragon recognises the presence of multiple processors, and both 32- and 64-bit systems and is thus able to take advantage of today's multi-core PCs with 2GB or more of RAM.
Having installed the software and connected the supplied headset one needs, initially, to speak to the computer to check that the sound quality is satisfactory. Following that check, a further five minutes or so is spent dictating from a choice of provided text to build up a user profile.
From then on, one is a position to start dictating into a choice of programs. In addition to, as one would expect, compatibility with Microsoft applications it works with other programs such as OpenOffice. The Natural Language Command facility means that the user has some flexibility so that, to quote from the Help file, "make that bold," "bold the last paragraph," "set font bold" all do the same thing, as do many more conversational commands. Nevertheless, for a little while I found that I was frequently referring to the Quick Reference Card or to the Dragon Sidebar (another help feature) which is positioned conveniently on a wide screen display.
Although the recognition accuracy is very high, it can never be 100%. In fact, many miss recognitions are caused by poor audio input. Here, although I have yet to experience, it is claimed that Dragon 11 detects dropping audio quality and reminds you of typical courses, including microphone placement, excessive background noise, or if your Bluetooth microphone battery is low.
When a miss-recognition occurs you just ask the program to "select" the word in question. You are then provided with a number of options from which you may choose. If the correct one is not there, you can spell it letter-by-letter. Here, one feature that I found very useful was when asking it to select a particular word, and that word was repeated a number of times in the document; it marked them with a number. One then had the option to choose "N". This is just one of the many improvement over previous versions of Dragon.
As can be appreciated, those who have previous experience with dictating will find it easier to use Dragon than those without it. In practice, it does not take long to become accustomed thinking out one or more complete sentences, rather than just a word or two, before dictating. To prevent Dragon getting confused by extraneous sounds, one can tell the system to "Go to sleep" while one is thinking or even engaged in conversation with those around you and then, when one is ready, say "wake up".
Dragon 11 has moved on appreciably so that it has become very effective in controlling the PC and should not be considered just as a means of entering text. Not only is it a straightforward task to cut and paste around a single document, with a little practice one can open, close and switch between windows and so copy from one window to another.
There are two versions of Dragon Naturally Speaking 11: Home and Premium. While both of them use the same "engine" the former, which has a list price of £79.99, does not incorporate a number of the additional features such as being able to support multiple input devices including a digital voice recorder, as well as being able to create custom commands for inserting often used text or graphics or even automating routine data esry. Premium is available in three variants: the normal one with an ordinary headset with a list price of £149.99 and the Go Wireless, with a Bluetooth headset and the Dictate Anywhere which comes supplied with a pocket digital recorder. Both the latter versions are priced at £199.99 but can also be found on Amazon.