Dragon Gets Even More Natural

Dragon speech recognition software has been around for many years and is increasingly able to take advantage of faster processors and larger amounts of memory. The latest version Naturally Speaking 11.5 appears to have the same recognition engine as version 11, and so is also able to take advantage of today's multiple processor cores and 64-bit systems, but has been enhanced to make it this more user-friendly.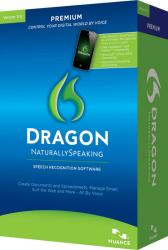 click image to enlarge
One important factor with speech recognition is that it should be provided with the best quality input possible. Consequently, once the software has been installed the audio performance (level and quality) of the microphone and the PC's sound card is checked prior to the user training the system to his or her voice by reading from a choice of texts. This only takes about ten minutes or so before one can start actually using the software.
However, although the audio system of my PC was deemed to fail, I was still able to follow this procedure. Nevertheless, to ensure better results I switched to a Sennheiser PC 26 USB headset which comes with its own soundcard and so bypasses that of the PC instead of the headset supplied with the software. This could well be a sensible choice for the businessman on the move who wants to ensure good quality audio input when using his laptop both for Dragon and Skype. By the way, this headset is available on Amazon for less than £20.
There are many improvements over earlier versions in the user interface and in correcting and editing. One of the additional changes that I like is the multiple-match facility. Here, when there are a number of instances of the word selected to which one wants to apply correction, editing or formatting commands, one is able choose all or, more likely, pick the particular one in question as dragon attaches an individual number to each.
Similarly, it is now possible by saying 'quote that' or 'bracket that' to apply quotation marks or brackets around the last phrase spoken or the current selection.
Although this is timesaving -- as is the fact that Nuance claims that Dragon is three-times faster than timing -- even more importantly, it makes Dragon easier and more user-friendly. In this context the sidebar has been enhanced in Dragon so that the user can find a particular command required without any fuss or bother. This is particularly useful to the new user who often has difficulty in remembering the various commands. There are additional commands to enable one to post to Facebook or Twitter.
The Sidebar lists commonly used commands under headings such as Working with Documents and Formatting. Clicking on one of these headings opens Help at the appropriate places to provide information of further commands. This is application sensitive so that the sidebar contents change as one switches between applications. Here, although a wide range of applications are supported in the Home version, one has to go to the more advanced versions for additional features such as Excel and PowerPoint support.
Overall, Dragon Naturally Speaking 11.5 is a useful tool for anyone who has to do a fair amount of typing at their computer keyboard. Although the Home version, at about £60 on Amazon, will meet most people's needs, some may consider that it is worth looking at the other versions which offer additional features as well as those that come with a Bluetooth headset or a digital voice recorder.