Video Editing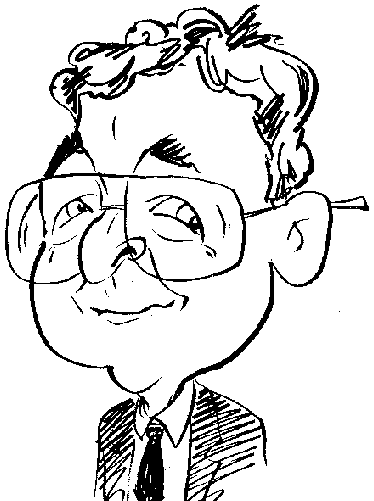 Review controls
Like another graphics company who shall remain nameless, the latest offerings from Magix does seem to come with various items of extra software.
Buy Now!
Movie edit Pro 14
Std £42.98 (download £34.99)
Pro £62.98 (download £57.99)
Direct from Magix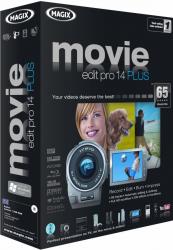 In the case of Magix Movie Edit Pro 14 Plus, you not only get several additional items as standard but also a bundled copy of CrazyTalk 4 Media Studio from Reallusion. As a result of this extra software (excluding CrazyTalk 4 for the moment), the installation of Movie Edit Pro 14 Plus does eat up a fair amount of time even when you reject some of the additional items - with some items you are not even given the choice of accepting or rejecting their installation.
At the end of the installation you could finish up with desktop icons relating to the main Movie Edit Pro application, Magix TV & Media Centre, iClone 2 SE (from Reallusion), Magix Mufin Finder and Magix Photo Manager 2007. Fortunately with the last two items you are given the choice of whether to install or not while the time taken by the installation does give you time to browse through the two manuals that are included in the box. The second manual is described as a supplement to the main one and is intended to cover an introduction to the handling of fades, effects and edits. These are all topics that many would consider more appropriate for the main manual but I suppose this method is better than ploughing through a PDF document or the help system.
As is usual with Magix products, the first time you run Movie Edit Pro you will need to enter a 31-character serial number and decide whether to accept or reject the offer of an online registration option. The program's opening interface, with a choice of light or dark colour scheme, presents four main choices represented by large icons and brief descriptions. The initial choices are Record, Import File, CD/DVD Copy and TV & Media Centre.
The Record option gives you a choice of using a variety of devices including DV or HDV camcorders, VHS player, web cam and TV card. For some reason the program failed to detect the Creative web cam installed on the test system even when the device was currently running. Of course you might prefer working with already existing content. This will be accessible from the Import File option. Support is provided for a range of file formats covering video, audio, graphic and text files. Among the supported formats are AVI, MPEG1/2/4, MOV, MXV, WMA, MIDI, BMP, JPEG and RTF.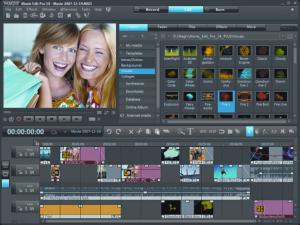 click image to enlarge
Once content has been loaded then you can access the Edit module as you add titles, effects, transitions plus cut and rearrange clips in a timeline view. The program allows you to work with 99 tracks that can include audio. While this process is relatively straightforward, it can be a little time consuming and fiddly especially for the less-experienced user. For those looking for a more simplistic approach, Movie Edit Pro has a One-Click option. This feature is built around a Movieshow Maker that takes the strain by gathering together the selected clips before adding music and some default effects and transitions.
When burning content, there are options to add DVD style menus plus use export options such as uploading to YouTube and various handheld devices. Annoyingly you will need to carry out an online activation procedure to use MPEG4 and MPEG2 features. You can also make copies of any CD/DVD media for which you hold the copyright.
As mentioned earlier, a number of extra items are included with Movie Edit Pro. Reallusion iClone 2 SE is software for creating animated 3D scenes while Mufin Music Finder can help track down appropriate music and Photo Manager handles general file issues. Bundled with the boxed copy of Magix Movie Edit Pro 14 is a full boxed version of Reallusion CrazyTalk 4 Media Studio. This talking-head software allows you to transform digital photos into animated talking actors that can be used in your movies, on your website or as an on-screen avatar.
This bundled package has been priced at £59.99. Minimum system specifications are a Pentium IV 1GHz processor, 512MN of RAM and 1GB of available hard disk space running Windows 2000 and later.