Xpelair Desktop Fan XP15E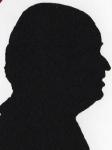 This is a column fan described as a 'Mini 15ʺ Desk Fan' but it also works just as well on the floor, any fan is likely to disturb papers and while this at lower levels did not do this the rotating action of the unit is likely to catch the eye when on a desk.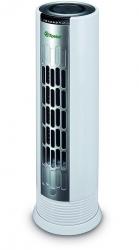 click image to enlarge
The fan is round at 4 inches diameter and not surprisingly 15 inches tall, the vents are between 5 and 12 inches from the base and the five wide openings are spread over 2 inches and are five deep so a total of 25 vents, each is 2/10th of an inch wide and around an inch deep they are slightly staggered.
The first batch of warm weather was over by the time this arrived but the next muggy spell it had plenty of use during the afternoons in my office when otherwise it would not have been possible to work in any degree of comfort without stripping off, not a sight that anyone in the neighbourhood would appreciate seeing.
While this unit would probably be just about be at arm's reach and its controls are all touch on top of the unit it is also supplied with a small five button remote control that has exactly the same five buttons.
The remote is 3½x1½x¼ inch – it's a long time since I have used the inches measurement on my trusty 12inch ruler and almost as long searching for the appropriate symbols in my word processor but they are still there and I have used them as Xpelair call it a 15inch fan. The remote control is powered by a supplied single coin type battery.
Air input is from the rear and there are six columns of twenty four ½ x 1/8th inchopenings.
The fan itself has the five controls spread at 90 degrees points with the on/off touch button in the centre. The other four controls are Mode, Speed Osculation and Timer.
While any of the three speeds are not two noisy for the office in a bedroom you might get away with speed two at night and certainly speed one is virtually silent.
The mode button defaults to blower but there is are also natural and sleep modes. The last named mode has different running patterns.
Next the Timer mode where you select it to run in a range of times from one to fifteen hours.
Lastly Oscillating mode that always starts by moving to the right before returning to the centre and then moving to the left the total movement is around 90 degrees it can also be used without any oscillation.
At any time you can press the on/off button, when you restart by pressing the on/off button again it will revert to fan speed one and no oscillation.
There is a 12 page A5 booklet with adequate illustrations. It comes with a hard wired 13amp plug 3and just over a five foot cable.
This is a nice quiet fan that still does its job of cooling the user.
If you have a Prime account the Xpelair Mini Tower Fan Model XP15E is available from Amazon for £39.99, if you do not its £3 more.