Wileyfox Swift 2 phones

At the recent launch of two new smartphones, the Swift 2 and the Swift 2 Plus, Wileyfox let slip, either by accident or design, details of a third phone, the Swift 2 X.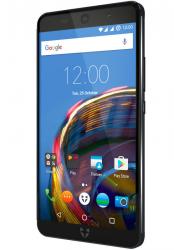 click image to enlarge
Wileyfox is a little known brand that has sold over half million phones across many countries in western Europe. Design responsibility is in the UK and, like many others, is manufactured in China.Its phones are currently available over the web rather than over the counter these phones are unlocked allowing the user to have a choice of networks.
The major differences between the Swift 2 and the Swift 2 Plus are that the former has 13MP and 8MP main and front cameras respectively and 16GB ROM and 2GB RAM and is priced at £159 while the latter, priced at £189, has 16MP and 8MP cameras and 32GB ROM and 3GB RAM. A MicroSD card of up to 64GB, can be inserted in one of the two SIM slots to expand the memory.
Based on Cyanogen OS, the third-party derivative of Android (V6.0.1), they are 4G LTE phones and each have 5 inch screens with 1280 x 720 (720p) resolution. They both employ the Octa Core Qualcomm Snapdragon 430 MSM8937 1.4GHz processor and the Adreno 505 GPUs. They incorporate B/G/N WiFi, Bluetooth, GPS and fingerprint recognition etc.
Other similarities are that they are both dual-SIM models in slim metal cases with Corning Gorilla glass screens, weigh 155g and are claimed to have 180 hour standby and 260 minutes talk time from the 2,700mAh built in battery. Having the new style Type C "reversible" USB connector they employ Quick Charge technology to provide 25% charge in 15 minutes; 50% in 30 minutes and 75% in 45 minutes.
Key differences between the these two phones, which should become available in the next few days, and the otherwise unannounced Swift 2 X are that the latter has a slightly larger 5.2inch 1920 x 1080 screen and improved cameras as well as a higher capacity battery which, in fact, delivers the same standby and talk times.