Vodafone Smart E8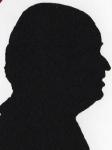 Let's make no great claims for this phone it's cheap and while it looks good perhaps it should be regarded as a spare or emergency phone, it's slow to react and load and perhaps the best thing about it is the Vodafone service which is good.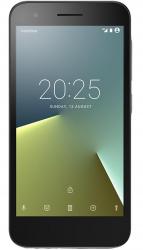 click image to enlarge
However while I often struggle to find bad points to say about a device here it is no problem, looking for good points is harder, well lets see, solid and cheap.
It is 14.5x7x.9cm and weighs 168grams. Screen shutdown is 4 seconds but activity is still happening, Bootup is poor at best it is 57 seconds.
The viewable screen is 8.2x11.1cm which gives the notional diagonal imperial measurement of 5 inches; the display is 480x854 with a low ppi of 196.
Now I often moan about finger marks here they are worse than normal and even with adaptive brightness the screen is often hard to see. Taking photographs in bright conditions is almost guesswork.
I cannot see what the 'E' stands for maybe it's economy.
This unit comes with a Snapdragon 210 Quad Core processor running at 1.1GHz, 8GB of internal memory and 1GB of RAM.
It has a Nano SIM and will accept Micro SD cards up to 128GB. It comes with Android 7.1 and has a 2200mAh battery which for a heavy user will probably not last a working day.
The rear camera is 5MP and has a flash, the front camera is 2MP, the best I can say about the images I took is that they are average.
The Android system is 7.1 which is the last but one.
There is only one colour which I see is called 'anodised blue' which is a dark near black colour; the back and sides are plastic but again quite smart. My main problem lies with the screen it never looks clean or even that clear or sharp.
Going round the unit, the right side has the volume rocker and on/off button, the base has the micro SD socket for charging, the left side is clear and the top has a 3.5mm headphone socket.
Unlike most recent units the back is removable and that means that you could replace the battery, here is where any Micro SD card goes as well as the Nano SIM.
Making and receiving calls worked without problems even in some areas that are normally where you hear 'hello hello and then an expletive or three'. Texts were fine, watching video was not to be encouraged both for frame drop and the lousy screen.
I often get people saying that I only give a phones good points well here I doubt they will say that. A friend of mine has the Smart V8 model up a bit pricewise and he is happy with that so I will ask to review that from the helpful people at Vodafone's PR and let you know what on the initial price gets you.
Surely no one would purchase this on contract so I give the Vodafone PAYG 1 price which has £1 price cap per day however much you use the phone you never pay more. The Vodafone Smart E8 is available for £49.
http://shop.vodafone.co.uk/shop/pay-as-you-go/vodafone-smart-e8-payg/