VisiCook Air Chef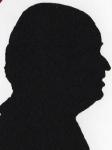 The Air Chef is the second of my three choices from the Birmingham based company that I came across by accident during a visit to the Exclusively Housewares show in London early in the summer, the first was the Home Baker already reviewed.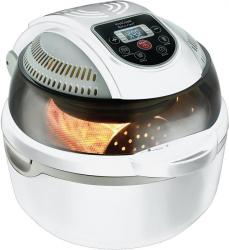 click image to enlarge
The Air Chef is 32cm tall, 32cm from side to side and 38cm from front to back. As you will probably have guessed this is cooking tool like the previously reviewed Home Baker but totally unlike the third item still to come.
Once you have unboxed the Air Chef anyone into cooking will love the choices around the 3.3x2.2cm display 'Rapid, Roast, Fries, Bake, Pizza, Grill, Skewer and Rotor'.
There are a range of tools included that enable you to turn this circular unit into completing any of the tasks mentioned. The lower half looks like a large wok and once the lid is closed it looks like an upturned wok on top of the other wok.
There is a 12 page A5 instruction book which is joyfully fully in English and has plenty of illustrations to show how to do things that require some of the metal ware supplied like the Rotisserie which work for poultry up to a large chicken.
Now the safety words, this device gets hot as it cooks up to 230 degrees centigrade and so young children should be kept clear. While it is not mentioned I feel this device would be great used outdoors – instead of a barbeque - but only in dry weather as you need electrical power.
There is also a four side A5 recipe leaflet with Sunday Roast, Starters, Stuffed Potato Skins, Main Courses, Stir Fry, Guilt Free Chips and Desserts covered, while more choices would have been nice it covers a lot of cooking methods and should give you ideas and if not I see they do a full blown cookbook which as an Air Chef owner you get a discount on.
There are six buttons in a 'U' shape below the small display they are all well marked and also covered in the instruction book.
While this is of course designed to work in a kitchen my thoughts above about using it outdoors are mine and not that of the manufacturer, I used it both indoors and outdoors the latter being my own choice.
There is a single A5 sheet advising you to cook with 400ml of water in the bottom of the unit which they mention gives a steamy atmosphere, makes meat extra succulent, makes your chips and roast potatoes crisper. It also reduces cooking smells and makes cleaning easier.
So if you have the space then being able to do certain things that are not available in most conventional ovens. If you decide to try it outdoors – at your own risk – then this gives a lot of the benefits of a barbeque without all the fuss and you still have a unit that works indoors for the rest of the year.
I can certainly say that a Rotisserie chicken is excellent and while I never have guilt about what I eat the 'quilt free chips' with just a small amount of oil are excellent. But with all cooking devices it is trial and error to get things perfect. Click on the link below and then click to enlarge the image which shows your eight images this enables you to access image eight that is a three minute video to show exactly what can be achieved.
The VisiCook Air Chef is available from Amazon for £96.20 with free delivery.