Smarter Coffee Machine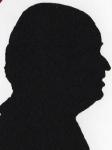 Review controls
Coffee machines are always a hit especially ones which you can approach and know your coffee is ready to pour. Of course that often means the coffee may not be freshly ground unless of course you live in your local coffee shop.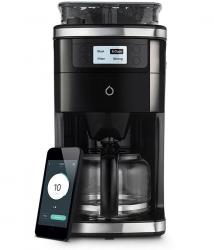 click image to enlarge
This is a bean machine and providing it has water and beans it can have your hot coffee waiting when you get into the office even if its 6AM.
While this unit works perfectly well with you at its side it can also work by Wi-Fi once you have set it up and as the process takes around eight minutes from start to finish it might be just the thing unless you have a servant to do everything for you.
First it grinds the beans this takes around a minute and is very noisy so not the thing to do after a heavy night out. Then it takes around three minutes to heat the water and finally around four minutes to brew the coffee. By default it will then be kept warm for forty minutes ideal when one cup is not enough to get you fully functional.
Should the noise of the grinder be too much it can also work with filter coffee.
There is a multi language booklet but this is health a safety tool and no help in setting up.
There is a folded card telling you to download the App from the iOS or Android store, brief instructions are provided and if all works correctly this is fine.
I first saw this device shown a while ago and that was version 1 this looks rather different and is version 2. I never saw the first App this one is called Smarter 3.
As far as I could ascertain there is no on/off switch once plugged into the mains it's on and this is important as if it was turned off you could not use it remotely.
It is 20cm wide, 24cm deep and 33cm tall. It weighs just under seven kilos.
Near the top on the front is a 5x2cm screen with black writing on a white background while in use or when the coffee is keeping warm. Otherwise the black writing is on a grey background so in poor light it may look off.
Just to the left of the screen is an LED that initially will show orange then while connecting to your phone red and then green, this will only show for one minute otherwise this LED is off.
There are four buttons at the outside corners of the display. Start top left press this only briefly, top right the strength you want your coffee, bottom left Bean or filter coffee and bottom right the number of cups to make. Apart from the top left button the others are all sequential presses to show what you require. These choices are yours when operating at the machine, when used through the App you have more choices and indeed more information including the important one that occurs after brewing and that only appears on the phone 'dripping' when the last of the water comes through before it goes to keeping warm just the time to walk to the coffee machine.
I worked all this out as there were no instructions; my unit was new so I cannot blame the previous reviewer.
The unit I received was black it comes with two alternate colour faces red or white. No instructions on how to empty the grounds were provided a button on the right side says 'Open' and this swings out the grounds container. There is a water gauge on the right side towards the rear.
All these things are fairly easy to work out, if there was a guide why was it not included and it is surely more important than a thick Health and Safety booklet but of course lawyers rule the world.
Nice coffee well made but it should not be a lottery to setup and even the instructions in the App are not that clear, it talks about 'Blink Up' but no explanation other than an illustration showing your mobile held near to the display, nice people trying to help but it should not be required with proper instructions.
The coffee both bean and filter was excellent especially when brewed remotely and the smell drifting towards you as you enter the kitchen.
Once setup - which worked on the third attempt – after a factory reset - which you only know how to do once you have spoken to Smarter - it worked perfectly, I made sure that both the machine and phone were off in different combinations when I tried locally to make sure and once setup it seems bulletproof. A small guide even in .PDF format to download can answer all sorts of questions like how many cups the 1.5litre water tank will hold, routine cleaning and so many more minor points.
The Smarter Coffee V2 is available from Amazon for £174.99.