Scott Bags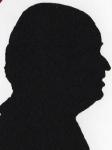 This product consists of ten bags of one size and five bags of a larger size, three air exaction valves and a pump to remove the air so whatever you want to 'keep fresh' without air making it go off, you are able to store items in a fresh state for far longer by being in a vacuum.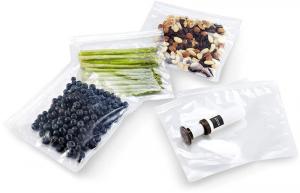 click image to enlarge
Vacuum packing is not new but home vacuum packing is, Chefs use vacuum packing in preparing a lot of items.
The bags provided are high quality reusable nylon bags and so the curse of single use plastic is slightly lessened. The pump is polypropylene and the valves are silicon and nylon. All are cold resistant to -20 degrees Celsius and heat resistant to 100 degrees Celsius for up to 15 minutes.
The two bag sizes are 26x28cm and 20x22cm. The value and pump are both dishwasher safe and the valve and bag are both refrigerator safe.
The action on the 11cm long pump is the reverse of most in that it is a sucking motion and once attached to one of the two piece clever valves that fit on the bags will such the air out to leave a vacuum and best of all close over whatever you have placed in the bag giving it some travel protection.
There is a single A4 sheet of paper in the pack this is divided into four columns; there are six illustrations which should take you from removing one of the supplied bags from the box through fitting one of the valves, sealing the bag and then fitting the pump to remove the air.
My first test was with some biscuits that when removed from an air tight tin soon become soft and not great to eat. I placed them in the bag sealed it and created the vacuum I then left them out on my cabinet for a week and when I opened the bag they were just as crisp as when I put them in.
Some things like meat and fish should be wrapped in paper towels to soak up any liquid. Liquids should be pre freezed before processing. I find it increases the life of nuts so you can buy a larger pack that would otherwise go off before you could use them, once the air is removed they are like an unopened pack.
Perhaps the best use is for delicate fruit such as blackberries, blueberries and raspberries. Processing into the bags when fresh allows you to freeze and remove from freezer in the amount you want when out of season.
The bags are also good for marinating things and the time taken will be reduced without air present.
The Scott website says food can be stored safely in the refrigerator for 3-5 times longer without the presence of air.
The air removed from something like fish or meat meats means you can also cook in a water bath which uses water at less than boiling point like a professional chef.
There is far more information on this great product on the link below where you can also purchase the product for only £22.99.