Sony Ericsson C510 mobile phone

Published Aug 4, 2009 Author
petew
Review controls
A new candy-bar mobile from Sony Ericsson that provides a wealth of features in a small package at a good price.
Buy Now!
Sony Ericsson C510
PAYG from £69.95
Contract from £15 per month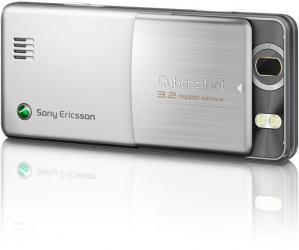 click image to enlarge
The Sony Ericsson C510 measures approximately 47x107x12mm (WxHxD) and weighs 92g. For the fashion conscious you can have your choice of red, silver or black. The device is very reminiscent of my excellent and long serving K800i, although with the addition of a few new features and a loss of around 30% of thickness.
In the box with the phone Sony Ericsson provide their standard charger, USB cable, stereo headset, manual and CD. The CD comes with the company's standard PC Suite for managing your phone and a media manager application for transferring and managing music and video media files.
Storage within the phone is a fairly small 100M bytes, although this can be extended using Sony's proprietary Memory Stick M2 format cards. The maximum supported size 8G bytes, enough to carry a fairly hefty media library around with you. Although a little more expensive than the more generic microSD card, it's still possible to get a 4Gbyte card for only £10.99. A slot for the memory card is on the side of the phone and unlike many phones does not require the battery or covers to be removed for access.
A cover on the back of the device provides access to the 3.6V 1930mAh battery which is claimed to provide up to 400 hours standby time (around 16 days) and 10 hours of talk time. Access to the SIM is provided by removing the battery.
Screen and Controls
The C510 sports the current 'standard' Sony Ericsson navigation controls: a central activation button surrounded by four direction controls; start call; end call; cancel; menu; two 'soft keys', that change function depending on the application.
The left-hand edge of the device contains volume up/down buttons and the camera shutter control. The only obvious omission from my old K800i is a 'play/pause' function for the media player.
The menu structure is very similar to the older K800i with some additional animations. Performance of the menus was adequate and a big improvement over some of the Sony Ericsson phones I've used over the last couple of years which seemed under powered.
As is now becoming standard the C510 includes an 'accelerometer', popularised by the iPod Touch. This has two functions. Firstly to detect the orientation of the phone and automatically rotate some applications between landscape and portrait. Secondly as a control in it's own right allowing the orientation of the phone to control movement in, for example, games. This latter use I was unable to confirm due to the lack of suitable games on the device.
The screen is a very bright 320x240 pixel backlit TFT LCD that works well even in bright locations. The brightness is automatically controlled depending on the ambient lighting conditions.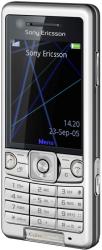 click image to enlarge
Cyber-Shot
A phone of course is not a phone these days without a camera. In the case of the C510 this has a 3.2M pixel sensor. This is protected from damage by a nifty flush fitting cover which helps to keep down the thickness of the device. Slide to one side to reveal the lens and a "photo light". As you open the cover the camera function is automatically activated.
The 'Photo Light' takes the place of a more traditional flash with the advantage that it will also work for video. This is not as bright as a flash and I had mixed results in use. In practice though it's fine for lighting up a face across a table. Given that many phones still fail to have any built in lighting at all this is definitely a plus.
The Cyber-shot software has been enhanced for this phone to include face recognition and 'Smile Shutter'. This natty little feature allows the camera to release the shutter just as your subject smiles.
One other nice feature is the ability to 'geo-tag' your photos - automatically recording the geographic location of each photograph and thus, in theory at least, avoiding those lengthy discussions years later of where abouts that picture was actually taken. The location is determined by triangulating your position with respect to local cell-phone transmitters. This does mean of course that in the more rural areas tagging may not work.
Entertainment on the move
Although not part of the 'W' series of Walkman phones, the C510 nonetheless comes complete with Sony Ericsson's very good media player, which includes an FM radio with RDS. Playback includes the option for "Mega Bass".
Playback through the built in speaker is reasonable and the quality of the provided headphones is very good. There's no 3.5mm jack socket but if you want to use better quality headphones then you can buy a separate adaptor or make use of the built-in Bluetooth A2DP support to attach to suitable wireless headphones or speakers.
If you'd rather take an active role in your entertainment the C510 is of course capable of running a number of games. The sample unit included a number of titles, but those I tried required payment before play.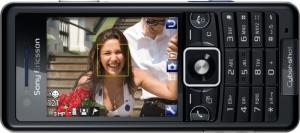 click image to enlarge
Media Go
The CD that accompanies the C510 includes Media Go - Sony's software for managing your multimedia files. I think this can best be described as adequate. The user interface is fairly straight forward. Down the left you have a locations: the local computer and then below any attached devices. The C510 will show as two separate entries - one for the phone memory and a separate one for any memory card you have inserted into the device.
The biggest issue with this software is the speed of transfer, which managed around 8Mbits per second. If that sounds fairly fast put another way that's about 1 minute for a single album, compared with around 8 seconds using iTunes to an iPod.
Transferring a lot of media is best done when you don't want to use your phone!
On-line
The other must have capability for any "communications tool" worth it's salt is of course is access to the Internet. While on-line access is still a costly and confusing option from most service providers it is slowly starting to gain traction most notably driven by social networking sites like Facebook.
The C510 includes internet access. As well as a generic web-browser it also includes specific applications for Facebook, YouTube and Messenger providing a comfort blanket for those that start to get twitchy when not on-line.
Summary
The Sony Ericsson C510 sports features that only a couple of years ago would be considered leading edge and demanded a high premium. Now you can have those same features in a neat package at a very reasonable price.
Looking around at the PAYG deals available Vodafone has the C510 available for £100. Although I couldn't find a direct offer on the other major service providers sites, The Carphone Warehouse claims to have them from O2 for £109.95 and from Virgin for £99.95.
If you're looking for contract then 3Mobile will let you have the C510 for £15/month with an 18 month contract. Once more I found it difficult finding the phone on other service providers sites, so back to The Carphone Warehouse where they have it available free on various contracts from all the major providers, although 3Mobile still provide the cheapest option.