Ring Video DoorBell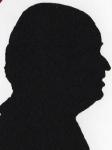 This is quite a small unit that can alert you to people coming towards your door as well as those who actually ring its bell. You do not need to walk to the door to see who is calling you get an almost instant video reply via your Wi-Fi to your phone or Windows 10 PC.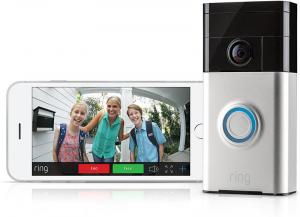 click image to enlarge
A bold statement is made in the package that 'everything that is required is supplied', almost everything is, the missing things are the drill, bredell and pencil, another item that could help the single person obtain the correct location is a couple of double sided tape pads.
With any holes be they in wood or masonry check twice before you mark the spot and then again before you drill.
The camera can run on the wiring from your current bell if you have one but as the unit has an internal rechargeable battery that you charge in a couple of hours from USB (lead provided) so no wiring is required.
Instructions are provided in the box, and when you install the App on your phone you can either get installation instructions from the App or they will email them to you.
So in the box is the video doorbell, the back plate for the video doorbell, a drill bit, a spirit level, four screws with washers and four raw plugs, a Philips double ended screw driver in a single handle as well as the USB to micro USB lead.
Having charged the doorbell and found your drill, marked and drilled the holes you can attach the doorbell back plate then attach the doorbell to the back plate. You will need to occasionally remove the doorbell to recharge it – this was not required during my test period and the instructions state this will be between 6 to 12 months – unless of course you use mains power you are warned about the acceptable VAC level.
The doorbell itself is 12.5x6x2cm; the fish eye wide angle camera is mounted 3cm from the top, the illuminated push button 4.5cm from the base. There are six possible patterns all explained in the excellent fold out instruction sheet.
Setting up an account is simple as is linking the doorbell to your Wi-Fi after that you get a near instant notification on your phone when your doorbell is pushed. I used the Android App and then Windows 10 but they claim it also works on iOS
No need to have external lighting as the doorbell uses infra-red in poor light conditions.
The doorbell is available in Satin Nickel, Venetian Bronze, Antique Brass or Polished Brass finishes.
It is certified for outdoor use and you have 'lifetime purchase protection' which I see even gets you a replacement should your doorbell be stolen. You get 30 days of cloud recordings after that you can purchase this feature for monthly or yearly fee.
The courier that always calls while you are out, you can speak him/her via built a built in speaker and microphone.
As with all cameras take time to get the exact position to avoid false notifications of motion from ground moving animals.
The camera seems well made and for most even when your phone is off the bell still sounds and for a home with several occupants it can be setup to notify other users.
The Ring Video Doorbell is available from Amazon for £159 with free delivery.