Sennheiser's PC11 headset travels well

The Sennheiser PC11 is a lightweight single-sided, over the ear, headset that, unlike conventional headsets, one can put on and taken off with one hand. Consequently, it is very convenient to use -- especially for road warriors who will also appreciate its small size and weight. After all they often make use of Internet telephony services such as Skype when travelling in the UK and abroad.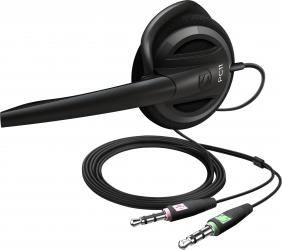 click image to enlarge
Weighing just 31gm, including the 2m cable and ear hook (hooks provided for both left and right ears), it slips easily into one's laptop bag and so is available whenever needed. It only takes a moment to unwind (and possibly untangle) the cable and plug it in to the computer's 3.5mm audio In and Out sockets. Then, although it seems strange at first, one soon develops the knack of hooking the headset on one's ear and adjusting the microphone boom into a suitable position. While this is not too critical, it is important as, when I first attempted to use it, I positioned it so very badly that it did not pick up my voice very well.
The claimed frequency response is 45 -- 18,000Hz. However, although I have no means of verifying this, I found that the sensitivity was adequate and the sound quality was smooth and such that I could recognise other people's voices quite easily and that, similarly, they could recognise mine.
The whole unit, including the foam earpiece pad and the cable are black in colour except for the two plugs which are colour-coded. The earpiece pad itself is roughly 5cm in diameter and the attached microphone boom is some 6cm long and is hinged so that it can be swivelled to the most suitable position.
The cable is thin and flexible and so does not drag on the headset as you move your head. However, it would have been better if a shirt clip had been provided to prevent tugs on the cable and thus on one's ear.
Overall, I found that it was a well designed product which performed effectively and is much more convenient than a conventional headset for use with a laptop -- whether on the move or in the home or office.
At £17.95 on Amazon it is competitively priced and should be within most people's budget. However, I feel that many people would be prepared to spend the small amount extra that would have been required in providing a shirt clip and some form of simple bag that would both protect it when not in use and stop its cable getting entwined with other items on one's computer case.