Sandstrom Sound Bar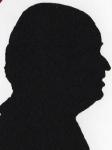 Is a soundbar a good investment? A simple question but as often the answer has several 'ifs and buts' mainly around how you use it and what for, this is not a cop out as a decent soundbar now need not be tied only to your TV.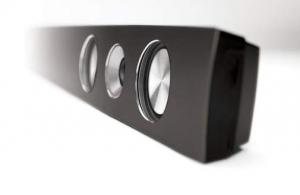 click image to enlarge
While I tested it in several ways with two separate TV's neither were 47inches the size of TV this bar was designed to be used with. However as it sat either on the floor or in front of the TV in one case on the TV table in front of the TV it matters not as it just overlaps the end of the table.
It is 107x9x4.5cm and weights two kilos.
For those who have their TV on a wall you can mount this on the wall below the TV just as easily.
There are three connections in a recess in the centre of the back, power, optical (lead not supplied) and 3.5mm socket. On the right edge of the bar there is a further 3.5mm socket, so this means you can connect more than item to the soundbar.
On top of the bar are a line of seven buttons that can control the unit and which input is active. On the front is an LED which moves along a line according to the mode you are currently in, Standby, Auxiliary, Optical, Bluetooth and MP3 you move through these modes sequentially
There is also a small 8.5x4x.5cm remote control that duplicates the controls on the soundbar. It is controlled by a watch type battery and has ten buttons.
So perhaps the most important question does it improve the TV sound, YES. You certainly get a deeper sound with music be it film soundtrack or the latest Prom or pop offering. You also get greater clarity and can also hear those screen whispers without having everyone else annoyed because you have it up to loud.
There is also a lot more volume available just how much seems to depend on if you are watching TV through an aerial or via an external box.
To try to put a figure on it I get around 50% more through my aerial connection but around 150% more when using HDMI through a PVR. When I switch from one to the other the small remote is required to decrease or increase the level while all the time keeping the TV sound level static.
I find that films are the worst especially more recent ones as without a sound bar you have to up the level far higher than normal just to here normal speech this happens with all films when playing back via PVR or watching 'live' which does not happen to the same extent with the soundbar and of course you have more depth of sound available.
I am not sure I would buy a soundbar to play back from MP3, but if you have one then the facility is there. I also connected the soundbar using the headphones socket on the TV as not all TVs have Optical, there was an improvement of sound volume and depth.
Bluetooth may be a reason to buy but again as a bonus it would always be for TV first and the other facilities second and third.
The Sandstrom Sound Bar (47inch) is available from the link below (and in Currys shops) for £99.
http://www.currys.co.uk/gbuk/tv-dvd-blu-ray/sandstrom-s47s13-soundbar-20759768-pdt.html