Harman Kardon Go + Play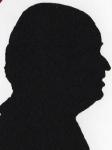 This is the only product I have so far received from my visit to CEDIA in June this year. Of course some promises always fail to materialise but this year is worse than normal. However this product took my eye as I walked past their stand.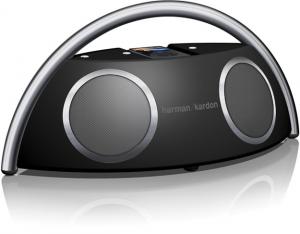 click image to enlarge
I am no style guru but it certainly looks stylish to me and most people who have seen it have commented on it. 44cm across a maximum of 18cm wide and 25cm tall to the top of the large chromed handle that sweeps in a semi circle from one side to the other. It is a maximum of 7cm above the unit in the centre. The sides are only 3cm across and I suppose it is like half a large rugby ball. It weights 4.5kilos.
It has four 12cm across round speaker enclosures two on the front and two on the back. It looks as if it has no controls and only an iPod dock on the top in the centre.
The back has a line of four small square rubber bungs DC input, USB, S-Video and Audio in. Just above this is a push in door that opens 2cm at the top to reveal a small remote control. This has six silvered buttons on piano black; it is convex 4cm at the base and 5.5cm at the top. These controls can control any iPod when in the dock. The box has a number of sleeves that should allow all types of iPod to fit snugly in the dock.
As stated there is also an audio-in and during this testing period I was also reviewing the Sansa Fuse (review next week) and this also was well used. I said earlier that there were no controls this is not strictly true as on the top there are what look like three thumb screws one – one + and the other u shaped they are on/off minus and plus for volume levels when using an MP3 player via the audio-in socket. At this point a little gripe the volume level is not maintained and every time you switch on it starts at zero.
However you use it with iPod or MP3 player it is all about sound quality and this is top notch. Try playing your device with earbuds or headphones and then play the same tracks on the Harman Kardon Go + Play and I suspect you will be certain they are different versions as everything bass, mid range and even the high notes will be clearer, sharper and better defined.
You have two 30 watt output woofers and two 30 watt tweeters and together with the internal drivers they are responsible for the superb sound quality. The stated frequency response is 40Hz-20kHz and the input impedance is 10k ohms.
As is normal nowadays it can run on whatever voltage is available UK, Europe or USA. While I feel this is rather large to be used as a portable it can be run on batteries. There are two huge screws on the base (a 2p piece is ideal to undo them) and beneath a door is the battery area (8 x 'C' cells) but this would put the weight to over 5 kilos so hardly light to carry round. Maybe it could be improved by having a rechargeable battery built in. It would certainly save on replacement batteries.
When your iPod is in the dock it is automatically charged all the time power is attached to the unit. I tried two different iPods and both worked without problem from the remote. Certainly if you are using it non static then using an MP3 player is less convenient because of the external wire from the audio in socket to the MP3 player.
If you require excellent sound quality from your iPod or MP3 then certainly the Harman Kardon Go + Play should be at the top of your list.
Doing my Internet searches found the Harman Kardon Go + Play at a best price of £203.58 including free delivery from the first link below.
http://www.amazon.co.uk/gp/product/B000K78IDO?ie=UTF8&tag=gadge0a-21&linkCode=as2