Wedgits and I-CY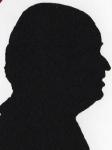 Two vastly different toys one for the very young and one for the 'boy or girl' in us all. Firstly Wedgits some blocks that build into so many shapes. Then i-Penguin (I-CY) the follow up to the amazing i-Dog.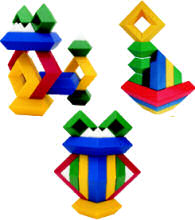 Wedgits
Normally I tend to avoid toys for the very young, but I found this set of blocks fascinating not least because of the range of objects that can be constructed with the 15 Wedgits that the junior set contains.
Stated as suitable for 3 to 103 I think that maybe it's main use maybe for even younger children but because of various rules and regulations the box has a Warning 'Choking Hazard Small Parts Not for children under 3 years' sticker.
So you get five white Octahedrons, four small green Rhombus, three medium yellow Rhombus, two large blue Rhombus and one giant red Rhombus. Before you go scrabbling for the dictionary the Octahedrons are solid and the Rhombus have holes or indentations in according to size.
Should you just stack them they link in several ways however and here's the clever bit they can form so many other shapes that the sky's the limit. Should the adult be supervising then there is a design booklet to help the less creative mind.
Not only are the colours inviting the plastic material is well made with no sharp edges. I may be wrong as it was a very busy day when I saw this but I seem to remember that the lady said it was being sold by Hamleys. They do a whole range of Wedgits, this being probably the cheapest and the smallest set.
http://www.wedgits.com go to products and Junior Set. For UK dealers contact Conachers Ltd on Tel: 01604 621 121 or http://www.conachers.co.uk .
http://www.amazon.co.uk/ImaginAbility-Inc-300010-Junior-Wedgits/dp/B0007OSUJW UK price £19.98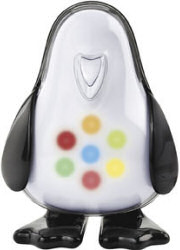 i Dog World Penguin (I-CY)
Two years ago I saw and reviewed the iDog (4-11-05) it was the first of what I see is now no less than seventeen different iDogs, plus there are even iCat and an iFish.
This year there is a new arrival, an iPenguin (the box I have says iDog World Penguin) and it is a great product. Described as for '8+' I think it will find it's way onto many executives desks as it is cute even when inactive.
For those who did not read the original iDog review (it's still there) but dog or penguin it moves to the beat of any music it is placed nearby and various lights on it's chest light up to be a mini light show.
It can also be connected to a music player and used as a speaker. Just like the iDog it gets upset if you pull it's tail. Whereas the iDog only moved it's head and gave a light show the iPenguin can and does also move it's wings.
I tend to place it near a speaker and just a short push on it's nose turns it on, (you need 3xAAA batteries not provided) and then it really listens and moves in time to the beat whatever you favourite music it. It of course has moods and these are spelled out by the colours and formations of the lights on it's chest.
Looking at the Hasbro USA site I see it's called I-CY a rather catchy name and I expect that the UK will follow, the stated price in the USA is $19.99 and even with tax added with the current exchange rate that is amazing value, see the last link.
The cheapest I can find it in the UK is the link below £19.98 including delivery. If you can get it for less then I would certainly award this a 5x5 award it's a super toy.
http://www.amazon.co.uk/Hasbro-I-Cy/dp/B000NJXL90
http://www.hasbrotoyshop.co.uk where it is listed at £19.99.
http://www.hasbro.com/default.cfm?page=ps_results&product_id=18732