Philips OneBlade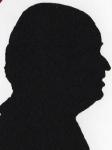 This is an electric shaver and beard trimmer that has everything in 'one blade' it is usable wet or dry. The recent trend for a lot of shavers it to go multiple blades, what the first misses the second will get etc. Here is a slim and light unit.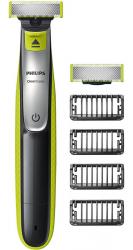 click image to enlarge
It weighs only 96grams 16cm long and roughly 2.5cm square for all but the last 2.5cm where the neck starts to turn to give the shaving angle. My unit very dark grey back and front with a ridged lime green rubberised colour on both sides so it is very grippy when wet.
Around 9cm up from the base is the on/off button which for me anyway is just the length of my thumb to allow the shaver to fit in the centre of my hand, near the shaving blade is the only other button which ejects the head for cleaning/changing.
The base has the connection point for the supplied charge cable.
Three heads are provided which fit over the shaving head to allow trimming of various length beards.
However to remove a beard or just to have a normal shave the 3x1cm head is used flat on the face and it has over a hundred micro holes like a very fine plain which does the work.
OneBlade is stated to last up to four months which is calculated on what they call 'two full shaves a week' it has a usage indicator that will become greener as it is worn out. You get 15% off the cost of your first replacement blade when you register.
Unlike a lot of shavers there are six useful tips on a 10x7.5cm sheet of paper all with colour illustrations above and although small in size they are clear and easy to read.
hold the blade flat against your face.
go against the grain.
shave long strokes.
edge with the side of the blade.
attach stubble comb to trim.
use long strokes to get even stubble.
While all that advice seems quite obvious very few shavers give it. There is the normal – far more confusing – range of small monochrome illustrations that avoid having to give instructions in multiple languages which for me are a pain. Finally two thick leaflets for the guarantee and health and safety.
I have tried this unit both in the shower where it stayed in my hand thanks to the grippy sides and dry shave where I did find that it could cause a little irritation on the neck.
The reason I became aware of it was not a press release but one of the very few adverts I see on TV – I tend to record commercial TV and then fast forward through the ads, - however BBC is no better but there ads are between programs – anyhow it's this gentleman with a very impressive beard and moustache that was shaved away in a very short time with only a few strokes. It had me hooked which is what an ad should do.
The Philips OneBlade is available from Amazon for £36.99 with Prime.