Philips 272S4LPJCB Quad-HD monitor

Review controls
As a member of Philips S Line range of business monitors, the Quad-HD 27inch 272S4LPJCB ticks all the right boxes for the discerning user. It provides 2560 x 1440 native resolution, is mounted on an ergonomic stand, provides a range of features and offers a choice of connectivity. In addition, Philips claims that it is built using 25% recycled materials.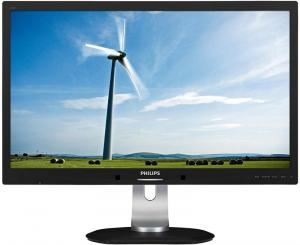 click image to enlarge
The screen is framed by a black bezel which is 3 and 4 cm wide at top and bottom respectively and 2cm wide on each side. Overall, this provides a contrasting backdrop to the screen which is an aid to relaxed viewing especially when one has to concentrate for long periods of time such as when having to focus on detailed spreadsheets. In addition, the stand provides a wide range of movements so that the screen can be adjusted to the most convenient viewing position. The lowest edge of the screen can be just 8cm from the desktop and there is a spring counterbalance with makes light work of raising the screen though its 12cm range of vertical movement. The screen can also be tilted through the range of -5 to +20 degrees so that the user can set the screen at the most comfortable viewing angle. It can also be slewed laterally when more than one person needs to view the screen.
The pair of 2W speakers are built in are adequate for use with Skype and similar applications. However, as must be appreciated, the slim case limits what can be achieved in the way of speaker performance. Consequently, users who want to view videos or listen to music seriously would probably want to make use of external speakers – just like using a sound bar with a flat screen TV. There is, by the way, a headphone socket.
When one switches from using a 1920 x 1080 monitor, the higher resolution of this Quad HD TFT screen is immediately apparent and can be readily appreciated. Text appears appreciably sharper and so there is less eyestrain and one can view type sizes down to 8 or 9pt at 100% without zooming. This makes it ideal for DTP and large spread sheets. Furthermore, this higher resolution is ideal when using the Picture-in-Picture or Picture-by-Picture modes which enable inputs from two different sources to be viewed concurrently. PIP/PBP are conveniently accessed via the touch screen controls as are the SmartImage settings.
When activated there are a choice of SmartImage settings -- office, photo, movie, game -- whereby the image is dynamically optimised for the appropriate contrast, colour saturation and sharpness. There is also an economy mode which provides good overall power saving which I found perfectly adequate for all text related applications except when working with small type in detailed spreadsheets or DTP. The PowerSensor, which reduces the screen brilliance to about 20% – and therefore power consumption -- was particularly effective with the higher brilliance setttings. It employs IR sensors which detect when the user has gone away from their desk for a while and dims the screen. The brilliance reverts to normal as soon as the user returns.
The choice of input – VGA, DVI, HDMI or Displayport – and all the other settings are accessed via the touch controls at the right hand end of the lower bezel. In addition to the usual picture settings there is Power Sensor and PIP/PBP.
I found colour rendition satisfactory and, yet again, one can appreciate the benefit of the higher resolution with, for example, individual hairs can be easily seen in a portrait without the need to zoom in. In fact, it made me aware of the shortcomings in some of my photos. To meet individual needs one can select from a range of colour temperatures, sRGB or make individual RGB percentage balance settings.
One additional feature in the specification is MHL (Mobile High-Definition Link) compatibility. This is a mobile audio/video interface for directly connecting compatible mobile phones and other portable devices to high definition displays.
Available from Insight Direct (UK) (uk.insight.com) at £257.99 incl. VAT this is a premium monitor that offers quad HD with good performance and a wide range of features that will be appreciated by both business and domestic users. . In order to get the best out of it, one really needs to make use of the downloadable instruction manual and so be able to take advantage of the wide range of features.