Philips 24 inch 243V7Q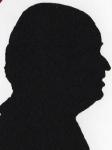 This is a flat panel to fit easily on your desk; it protects your eyes for those of us who need to look at a flat panel for hours each day. This latest offering from Philips is a full HD offering at 1920x1080 and the actual viewable screen is 23.8inches.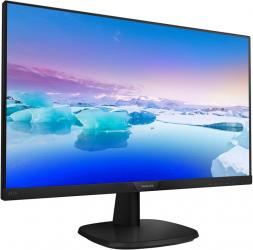 click image to enlarge
The screen is 53.5x31.5x1cm and the screen is raised 8.5cm by the 20x20cm stand which clips into a link which has a thumbscrew connection so less than a minute to assemble.
As with most recent panels Windows finds a perfectly acceptable driver and really your only choice is whether to connect by VGA or HDMI.
It is called an edge to edge display, the top and sides have a very small border with the bottom one being around 1.5cm.
Like almost all recent panels the claim is 178 degree side to side viewing and while this may be possible surely this would play havoc with your back.
The colours are crisp and clear and images are stable with of course no flickering of videos. Their site talks of high brightness and incredible contrast but most of all colour realism.
The narrow side borders mean for those using multiple panels there should be no distraction as the image will be near seamless.
A few words on SmartContrast this analyses the contents you are displaying, automatically adjusting colours and controlling backlight intensity to dynamically enhance contrast for the best digital images and videos or when playing games where dark hues are displayed. If you use Economy Mode the adjustments are still made and of course you use less power.
Office, Photo, Movie, Game, Economy plus your own settings are the modes available for you to set, however unless you are using predominately one mode I found the default hard to improve on. Yes if you watch a lot of videos with their strange colour pallets then Game might be an advantage to set.
Both Flicker Free and low Blue Light are things we now take as given; only a few years ago either was very very rare.
An HDMI-ready device has all the required hardware to accept High-Definition Multimedia Interface (HDMI) input. An HDMI cable enables high-quality digital video and audio to be transmitted over a single cable from a PC or any number of AV sources (including set-top boxes, DVD players, A/V receivers and video cameras).
A feature that seems to appear more often now is Easy Read which means what you see on the screen should have the look and feel of the same in a paper document.
The amount of power used is now a big subject this is stated to use 13.82watts in use and .5watts in standby or off unless you actually turn the power off to the panel.
This is a nice easy to assemble unit and the desk footprint in quite compact although a little deeper than some. The display is sharp and best of all kind to eyes even after a long day or night of use.
The Philips 24inch 243V7Q is available from the first link below for £135.89 with free delivery.
https://www.amazon.co.uk/Philips-243V7QDSB-00-24/dp/B06Y3CJJQN
http://www.philips.co.uk/c-p/243V7QDSB_00/full-hd-lcd-monitor