Nikon L340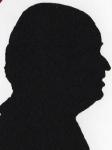 Review controls
Nikon have long been a good name in cameras both professional and even down to small amateur units. The Nikon L340 is such a beast available from some retailers for under £100.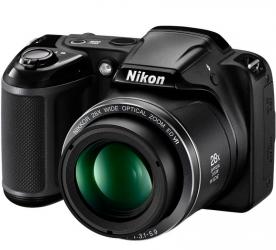 click image to enlarge
The Nikon L340 measures 10.5cm wide, 9.5cm deep and 7.5cm tall it weighs 465grams, all those figures are when it is switched off.
When the lens is fully extended that can add 3.5cm to the depth and if the flash is raised this adds 2.5cm to the height.
In truth this is little more than a basic unit which some will call 'point and shoot' but there are modes other than 'Auto' and if nothing else it teaches a novice user to hold a camera correctly so when they progress the right hand grips correctly with the finger next to the thumb operating the shutter. It even comes with a neck strap that may be overkill for a unit weighing only a tad over one pound but again good training for heavier items.
The base has a tripod screw and even with this unit images can be much easier to frame when using some zoom on a tripod, also on the base is the double lock bay that houses the four 'AA' batteries (supplied) as well as any SD card you use. While today few cameras still use 'AA' batteries if you are away from home it's easier to source 'AA' batteries than power sockets and leads when you are say camping.
I also proved this unit accepts a 64GB card that I am currently testing for another review so no 32GB barrier here.
The left side has a rubber bung over AV out and DC in, the right side is clear. The front has the lens light sensor and flip up flash. The top has microphone, slightly recessed on/off button and slightly forward on the protrusion formed by the battery bay the shutter release with the wide angle and telephoto control adjustment around it.
This leaves the back that is dominated by the 6x4.5cm TFT display to its right are one touch video capture button between the TFT and the thumb rest, below this are two pairs of well-marked buttons and the ubiquitous five position joystick control in between.
Image sizes that can be captured are 20MP, 10MP, 4MP, 2MP and VGA, the best 20MP size is 5152x3864. While setting size you can also adjust White Balance, Continuous shooting mode, ISO Sensitivity and AF area, so not so basic now is it.
However you cannot capture Full HD Video it can do 720P and 480P at 30FPS.
You by default have a reasonably clear TFT view for image and video capture with the icons displayed limited to the four corners.
So what of the images captured I was very happy considering this is a sub £100 camera, the depth of field and lack of noise in the gamut of images I took was fine. I know a camera is also expected to be a video capture machine today and it was easy to switch modes but do remember this cannot capture full HD video.
This is ideal as a bridge between a basic point and shoot offering that has the convenience of fitting in a pocket to a semi-professional offering with its added weight and features. About the only thing missing is a viewfinder to teach the novice user.
At the time of publication the Nikon L340 is available from Argos in their stores or online for £99.99 or from Amazon for £126.29.