New Soda's Sinkstation

The Sinkstation from New Soda is described as a sink preparation colander. It is a fresh and versatile approach to the standard boards used in the kitchen for food preparation.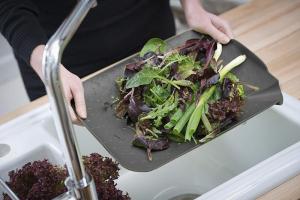 click image to enlarge
Available in a range of colours the body is moulded from a matt surfaced hard but not absolutely rigid plastic. Perforated with a large number of holes to allow water to drain through, it is 34 x 27cm in size and slightly bowl shaped with a pouring lip in one corner. This is a size that will drop comfortably into most sinks with space to spare although, as the note on the packing points out "not suitable for round sinks". Its four moulded feet enable it to sit comfortably in the sink or on the draining board as well as allowing fingers to get underneath and so can be picked up easily even when it loaded with a fair amount of vegetables.
It is a simple matter to put vegetables on the Sinkstation when it has been placed on the bottom of the sink and rinse them under running water especially when they still have dirt on them, such as when straight from the garden. The whole can then be lifted onto the draining board where it is then in a convenient place for cutting, slicing, dicing and peeling.
The bowl shape together with the pouring lip makes easy to tip peelings into the bin or the prepared vegetables into the pot without spillage and get on with preparing the meal. It is then easily washed, dried and stood on edge until it is next needed.
There is obviously no unique way to use the Sinkstation with, for example, the illustration on the packing shows it sitting at the bottom of the sink with peelings being dropped on to it rather than it being used while sitting on the draining board. One soon finds out what works best for you.
With a list price of £12 but available from Amazon for £9.74 this is a kitchen gadget that will be a boon for a great many busy cooks and one that is not likely to be consigned to the back of a cupboard gathering dust. I just wish that I had one years ago.