Netgear Gaming Switch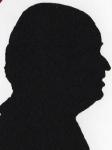 This item from Netgear even looks sinister as you remove it from the black box that this switch comes in. The matt black finish and the areas made up of triangles and rectangles add to the illusion that this device is somehow not a friendly one, add to that the dark blue 'V' of LED light when switched on it becomes more menacing.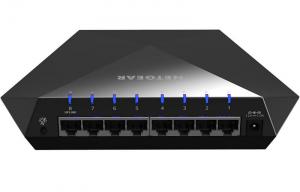 click image to enlarge
It is 19.5x14.5x3.7cm before anything is plugged in to the rear of it, so add another 3cm to the middle figure the depth. It weighs 765grams main because the case is Zinc-Alloy.
The base has four small 1.5x1cm rubber feet to make sure it stays flat on your table or desk and it has to be used in this way as unlike some routers it is only stable in this formation.
I can remember in the past asking why routers had four ports and getting the answer that is what the board supports and here you can see that the line of eight ports clearly have a join between port 4 and 5.
The other connections are the DC input before port 1 and a push switch to turn off/on the LED's that would otherwise show on the top of the switch denoting which ports are occupied.
To give its full name 'Nighthawk S8000 Gaming & Streaming Advanced 8-Port Gigabit Ethernet Switch' model GS808E. It comes with 90 days complimentary technical support which is available 24/7.
It comes with a fold out six side Installation instruction that has four steps the first to remind you that port eight should connect to your router.
Step 2 tells you how to find the IP address of the switch. Step 3 allows you to set up a fixed IP address (option) and Step 4 shows how to connect from a mobile device.
The DC lead – 1.8 metres – ends in a small UK 3 pin plug adapter.
So who can benefit from this futuristic offering certainly gamers whose lives depend on fast transmission times of signals. As the back of the box says 'Low Latency, Lag-Free Gaming' with over 90% lower latency for the fastest and most reliable multi-player and VR gaming experience.
'Ultimate 4K UHD Streaming' Optimised settings reduce buffering and deliver seamless UHD streaming.
'Up to 4X Faster than single Gigabit Connection' Link aggregation or port trunking allows for up to 4Gbps connection to supported devices like ReadyNAS network Attached Storage.
So how about the Technical Specifications:-
Eight Gigabit Ethernet Ports.
Enclosure: Cool-touch premium zinc-allot with soft touch base.
Preconfigured one-touch optimised settings.
Mobile GUI Optimised.
Port Rate Limiting.
Buffer size: 192KB.
MAC address database size: 4K.
Link Aggregation: 2 LAGS with up to 4 members each.
Number of prioty queues: 3.
Supported multicast groups: 128.
On/Off switch for port activity LEDs.
Netgear Nighthawk S8000 Gaming & Streaming Advanced 8-Port Gigabit Ethernet Switchmodel GS808E is available from Amazon for £90.99 with free delivery.
More details available from https://www.netgear.com/images/datasheet/switches/GS808E-Nighthawk.pdf