McAfee LiveSafe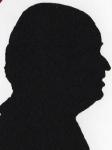 A company that started as Anti Virus protection but now so many nasty things are not strictly viruses but other ways have been found to affect your PC or mobile device and perhaps the most noticeable is stealing your wallet the last mentioned is not literal but once your cards are compromised they do remove everything you have and even things you don't like your sanity.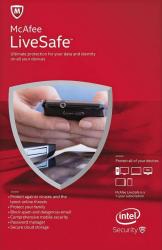 click image to enlarge
This is an item sold on an annual subscription so even if you purchase just before the latest version is issued you automatically get updated.
While McAfee were one of the original Anti Virus companies some people were reluctant to use it as it slowed down the computers performance a feature that has long since been sorted so you should not notice any difference before or after. While they still do a basic Anti Virus product they also do two others called Total Protection and Live Safe. Both these products include Anti Virus.
Total Protection covers not only your PC but probably most other connected devices like Macs, SmartPhobes and Tablets regardless of what operating system they use.
If you buy either of these products in a shop you will not normally get any physical media even if supplied in a box just a licence number. If you buy online either from someone like Amazon or even direct from McAfee then you just get a licence number which you input once you have downloaded the software.
While some products shout and say you have only three months left on your subscription McAfee is rather more subtle and a small box will pop up occasionally at the bottom right of the screen in the last month to remind you.
Apart from all your life online where it is easy for someone to visit an unsafe website quite innocently these are deliberately made to look like the site you intended to visit and all you may have done is transposed a couple of letters when you typed the URL.
Emails with attachments are another way the crooks try to get you and with McAfee installed you should be warned about unsafe content so beware before you open any attachment that you were not expecting even Word files and PDF files can be impregnated.
If you are a parent then Parental Controls for your children are vital and depending on the child's age then the amount of restriction can vary.
We all have numerous passwords and while they are often small variants on a single theme what is not always clear is the restrictions placed by some sites such as UPPER and lowercase as well as numerals and even symbols not to mention varying number of total characters. Some sites even insist on passwords being changed every 'X' days or weeks. So most will have to write passwords down and or course this is not secure so an alternative is a Password Manager and there is one in LiveSafe.
The last couple of features are Encryption for more sensitive files and the ability to remove Junk Mail before it gets to your inbox and of course this last action will remove a good number of emails with dodgy attachments.
McAfee is a permanent feature on my test PC and unlike some all you do when renewal is due is just enter a new product key.
McAfee LifeSafe is available for unlimited devices for £89.99 from the link below. If you are unsure there is a 30 day trial version that covers up to ten devices.
https://www.mcafee.com/consumer/en-gb/store/m0/catalog/mls_430/mcafee-livesafe.html?pkgid=430