Magic Wallet My Walit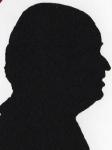 I am sure we all know how to make money disappear, the trick is to make it reappear again and while I saw this trick demonstrated when visiting one of the 'Xmas In July' events. The wallet it is meant to work with arrived but so far I have failed to make money disappear or reappear.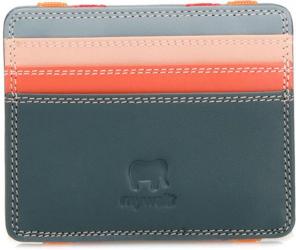 click image to enlarge
The demonstrator had a £5 note in one side of the wallet he opened it again and it had gone, reopened it and it was there again. So sadly all I can tell you about is the wallet.
It consists of two separate parts both 10.5x8cm, the first part is a small zip up purse on one side and a clear side for the reverse.
The second part has three credit card slots on one side and the other side being clear.
The two parts and joined by elastic on the backs, the credit card part has two vertical strips which disappear into the centre of the purse side. The purse part has an 'X' shape elastic connection on the rear which disappears into the credit card section.
The only information supplied with it was a credit card sized card saying 'designed in Italy' and a small fold out sheet to show other designs of wallets.
The site talks about 'now you see it and now you don't', I assume it's something to do with dexterity of movement when you turn it over but at my 'three score and ten plus age' I do not have a great deal of dexterity.
While you can pull the two parts apart as they are linked only by elastic if you then flip them they no longer sit flush to each other.
Both parts of the wallet are solid so there are no secret compartments.
The Gifts with Style website gives no clues.
I see from their website that Blue, Black, Purple, Green, Jamaica (Red) and Yellow are colour choices.
The unit sent to me was mainly blue but a lighter shade than shown on the website and a lemon yellow.
The unit appears well made and indeed a receipt or a note can be retained by either side of the elastic straps.
My only worry is the credit card section will not be big enough for most as even if you put two cards in each of the three sections that is still only six and with store cards, loyalty cards and bank cards etc. not to mention Oyster cards and bus passes most people will have more than six.
The purse side will accommodate only a few coins but as they try to make us a society that shuns cash that may not be so serious.
The My Walit Magic Wallet is available from the link below for £23.95.
https://www.giftswithstyle.com/collections/gifts-for-men/products/mywalit-magic-wallet?variant=49151645958