Kensington Stab Proof Case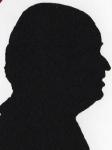 This is a 17inch pull along case, it has four different zips that all join at one padlock point so unless someone steals the case the contents should be safe as unlike other such cases it is sold with the 'stab proof' banner so just add a tracker inside the case and unless it is totally destroyed you can locate it once stolen.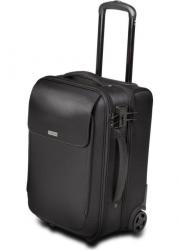 click image to enlarge
This Kensington Stab Proof Case measures 32x27x50cm and weighs 3.714kilos, remember that last figure it is without anything in and there will be times when you need to carry it up those stairs so when you pack it with alacrity remember those occasions.
Of course for the majority of the time this will be pulled along behind you and when you about to stop or suddenly change directions remember those other people who are behind or beside you, they have feet.
Of course the joy of something like this is all its pockets where you can put something and then spend all that time blocking others while you find that ticket or your passport.
The front has a fold over flap that covers an 85% zip that when open has a see through zip up pocket in the face and four smaller pockets and a couple of pen slots in the back.
Behind this the first serious full size pocket with twin zips that go to the padlock master, the face of this has a half height open pocket and two ¾ size pockets on its outside, the back has a half height padded pocket and behind that a full height padded pocket with Velcro strap, this expands to 5cm.
Behind the portrait carry handle is the main compartment with the other two padlock master zips. This has a full height zip with a see through pocket. The back of this pocket has a fabric back and a zip down the middle in front of this is a double 'Y' strap mesh to hold something in place.
Now the back of the unit a very sturdy lift up handle which expands to 58cm that enables you to control the unit and wreak havoc on people's corns with your controlling skills. Below this a ¾ height open pocket.
So on to the stab proof claim 'it is protected by durable Poly Twill material, your laptop and tablet stow in padded compartments and are shielded by an anti-puncture zipper'
This sort of claim gives any reviewer a problem of course something like the Gadget Show on TV will take this to extremes and probably employ a circular saw or a tank to smash into it.
My tests have to be a little more gentle as if I returned a damaged product I would probably have to pay for it or at the very least be unpopular when further review items came up.
Certainly it resisted pushes with edges of keys etc. at the most vulnerable points. Having four zips meet at one lock means that your contents should be reasonably secure on a plane or train.
The Kensington SecureTrek 17" Laptop Overnight Roller is available from Amazon for £165 with free delivery.
Further information available from the Kensington websitge.