Archos 80 Xenon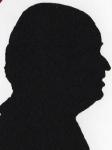 Perhaps the name gives a clue to the screen size if not its 8inches. This is an Android Tablet that is ideal to use over Wi-Fi. Of course its touch and with the creamy white surround to the screen it does not show your fingermarks, joy.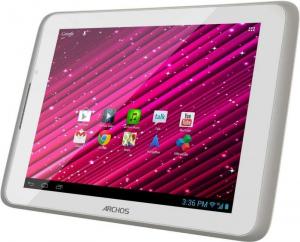 click image to enlarge
The Archos 80 Xenon measures 21.5x15.5x1cm and weights 435grams. The viewable screen is 16x12cm which gives the notional diagonal imperial measurement of 8inches and the display is 1024x768. It weighs just less than a pound at 440grams.
While it works fine with Wi-Fi there are times when out and about you are not near a hotspot and here the 80 Xenon can still function using 3G (any Network) to allow you to keep in touch wherever there is a mobile signal.
Assuming you are holding it in Landscape mode all the external controls are on the left side. On/off with a small pin hole LED below it, volume up and down, micro USB, 3.5mm earbuds socket and a long covered opening for SIM card and Micro SD card.
A quad Core processor and Android 4.1.2 give fast response to whatever you are doing. 1GB of Internal Storage and 2GB of Device storage plus whatever extra you decide to add via a Micro SD card should allow you to run almost anything.
I did find the battery life rather underwhelming at around 3Hours and less than two hours viewing videos.
Sound from the right edge facing speaker was adequate in a quiet room but with external noise probably not, the quality was OK but better with a headset.
As with almost all Android devices one of my stops is to turn off screen rotation as the angle I tend to hold units is close to that where rotation takes place but that maybe just me.
Archos like several other people who make Android devices add some extra items not normally available for 'free' from the Android store and perhaps one of the most useable is Angry Birds a very addictive game that suits a Tablet far better than a phone. The Office Suite is also something that allows both spread sheets and word processing documents to be opened in the same place. My Archos music app is better than that provided by some manufacturers, as indeed is their video player.
You do seem to have access to the full range of items from the Android Play Store.
Front and Back cameras allow reasonable photos to be taken and also suits things like video calling on Skype but beware of call costs when using 3G unless you have a very generous allowance.
In normal lighting conditions the Archos 80 was bright and clear, finding sunlight at this time of year is not easy but like all devices you do not want a strong light source directly onto the unit.
Is an 8inch unit too big to use as a phone, maybe, but with 3G it is possible, I think anyone holding this to their ear would look strange but a set of earbuds and this in a poachers pocket or a bag and who is to know what the unit is.
The Archos 80 Xenon is available from the link below for £150.18 with free delivery.
http://www.amazon.co.uk/gp/product/B00BZQBFR0?ie=UTF8&tag=gadge0a-21&linkCode=as2&camp=1634
http://www.archos.com/products/elements/xenon/archos_80xenon/index.html?country=gb&lang=en