Heston Blumenthal Meat Thermometer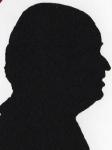 As an ex chef and keen home cook for over fifty years I know that food poisoning is a rather nasty - and for some – potentially dangerous condition. So basic hygiene is key and knowing when various items are hot enough to kill bugs is vital so a quite simple tool like a meat probe is not just useful but vital especially when dealing with larger items.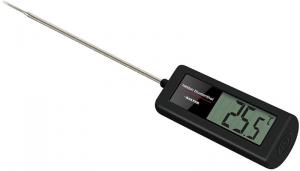 click image to enlarge
While a lot of what keen foodies will enjoy at Heston's outlets are considered by many to be strange combinations they still receive careful preparation.
This comes with two 'AAA' batteries which need to be inserted into the head of the unit. This is covered by a silicon rubber sleeve that is a tight fit but needs to be partially removed to allow the battery door to be slid off to fit the batteries. Refit the sleeve and that allows you to press the only user control an on/off touch button on the top of the units head.
There is a 4x2cm LCD display on the open side of the silicon cover that once switched on will display the current temperature. This can be as low as -45 degrees Celsius or as high as +200 degrees Celsius. I am happy to say I have not tested the device at anywhere near these extremes. Although I have placed it in my freezer and this then quickly showed the current temperature.
For those who prefer their reading in Fahrenheit this is possible by flicking a switch inside the battery case and then it can show between -49 degrees and +392 degrees Fahrenheit, the instruction sheet gives full details.
The LCD display is black on grey and shows up quite well in all but the darkest areas so perhaps you might need external light if cooking on an external barbecue late at night.
The probe itself is 18cm long so big enough for any domestic purpose.
The probe has an IPX5 water resistance rating.
The stainless steel probe has a sleeve as without it the probe would be sharp and possibly be classed as an offensive weapon. Always remove the sleeve before testing anything as any temperature reading with the sleeve on will at best be inaccurate and take a lot longer to get up or down to a correct reading.
There should have been – according to the instruction sheet – a meat temperature recommendation guide but as my sheet was blank on the reverse no temperature guide but these are widely available online and of course vary according to what you are cooking.
This probe can also be useful for jam making and other sugar work where an accurate reading is vital. The long probe also means your hands stay well clear of hot sugar which of course will be a lot hotter than boiling water.
I tested the accuracy of the readings given by the probe with various other devices and found them to be accurate.
The Heston Blumenthal Indoor/Outdoor Meat Thermometer is available from Amazon for £24.99.